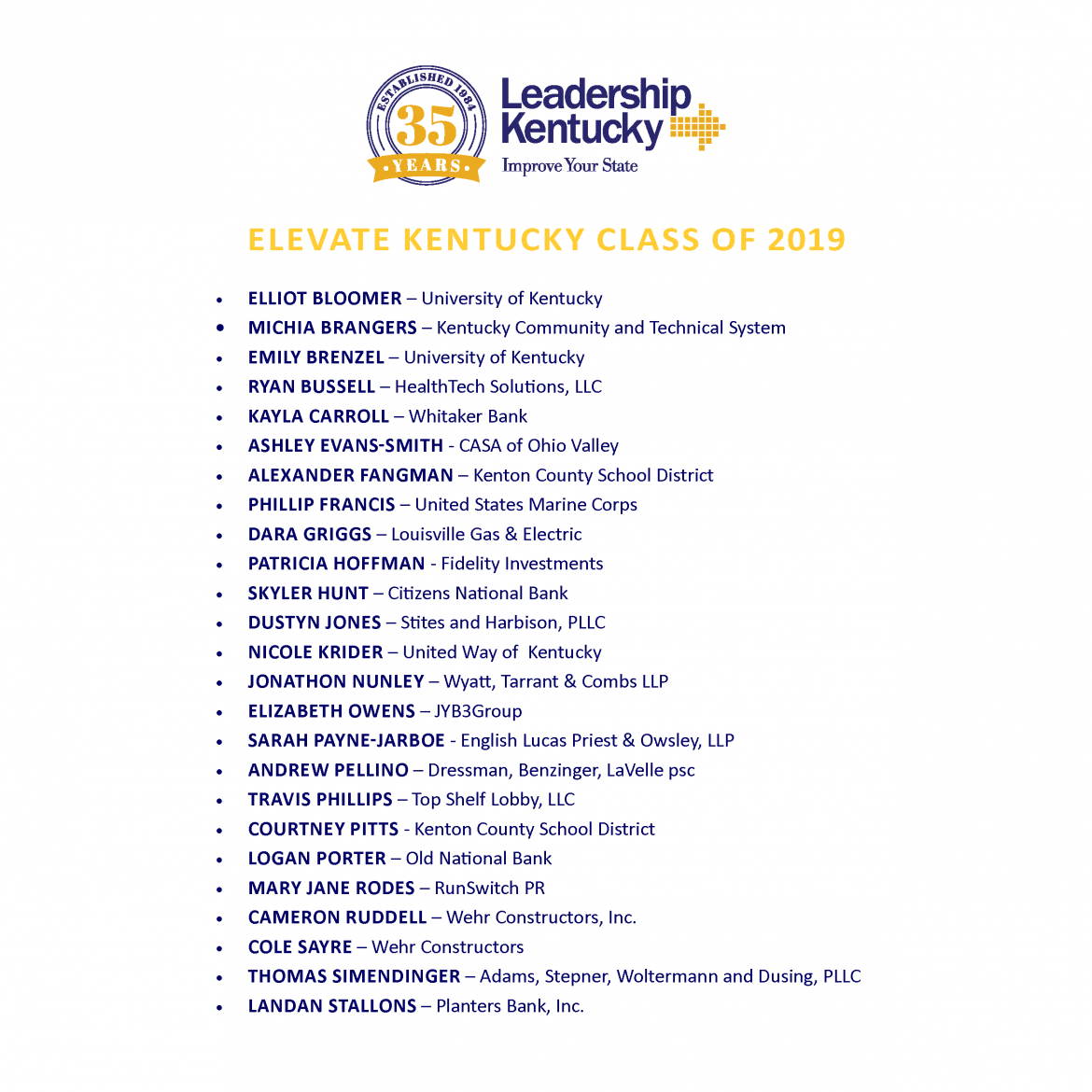 Leadership Kentucky, currently celebrating its 35th anniversary, is proud to announce the members of the Elevate Kentucky Class of 2019. The Elevate Kentucky program offers young professionals in-depth personal and professional development while fostering a better understanding of challenges facing our Commonwealth.
"Elevate Kentucky is a great opportunity for young leaders to network across the Commonwealth and learn more about their personal leadership styles, challenges and strengths facing our state, and how to be a better leader at home and at work," said Janice Way, President of Leadership Kentucky. "We are so proud to welcome the next generation of leaders into the Elevate program this year, and we look forward to all the success that is to come."
The class participates in three sessions, taking place from April through June 2019 in Owensboro, Prestonsburg, and Lexington. Class members will hear from thought-provoking Kentucky leaders, learn about issues and opportunities facing our state and gain insights about personal leadership abilities. Class members will also engage in panel discussions, participate in experiential learning opportunities, gain increased leadership skills, and receive both regional and statewide perspective while traveling across Kentucky.
"If not for Elevate Kentucky, I wouldn't have a greater understanding of my Commonwealth and how the different communities have overcome the seemingly impossible and how with the right team and motivation anyone can break down barriers and succeed," stated Jessica Zeh, a 2018 Elevate graduate. "I've met an amazing group of young professionals who I know I can count on when needed."
Participants return to their companies with increased skills, knowledge, perspective, and a new statewide professional network. Millennial leaders are better prepared to be catalysts in their companies and communities to Elevate Kentucky.
This year's class includes 25 participants from across the state representing a variety of public and private sectors:
Elliot Bloomer – Lexington, KY - University of Kentucky
Michia Brangers – Lexington - Kentucky Community and Technical System
Emily Brenzel – Lexington, KY - University of Kentucky
Ryan Bussell – Frankfort, KY - HealthTech Solutions, LLC
Kayla Carroll – Stanton, KY - Whitaker Bank
Ashley Evans-Smith - Hartford, KY - CASA of Ohio Valley
Alexander Fangman – Independence, KY - Kenton County Schools
Phillip Francis – Salyersville, KY - United States Marine Corps
Dara Griggs – Louisville, KY - Louisville Gas & Electric
Patricia Hoffman - Cold Spring, KY - Fidelity Investments
Skyler Hunt – Somerset, KY - Citizens National Bank
Dustyn Jones – Lexington, KY - Stites and Harbison, PLLC
Nicole Krider – Louisville, KY - United Way of Kentucky
Jonathon Nunley – Lexington, KY - Wyatt, Tarrant & Combs LLP
Elizabeth Owens – Lexington, KY - JYB3Group
Sarah Payne-Jarboe - Bowling Green, KY - English Lucas Priest & Owsley, LLP
Andrew Pellino – Prospect, KY - Dressman, Benzinger, LaVelle psc
Travis Phillips – Lexington, KY - Top Shelf Lobby, LLC
Courtney Pitts - Fort Wright, KY - Kenton County School District
Logan Porter – Greenville, KY - Old National Bank
Mary Jane Rodes – Louisville, KY - RunSwitch PR
Cameron Ruddell – Lexington, KY - Wehr Constructors, Inc.
Cole Sayre – Lexington, KY - Wehr Constructors
Thomas Simendinger – Covington, KY - Adams, Stepner, Woltermann and Dusing, PLLC
Landan Stallons – Hopkinsville, KY - Planters Bank, Inc.
The Leadership Kentucky Foundation offers three unique programs: Leadership Kentucky, Elevate Kentucky (for young professionals), and New Executives to Kentucky, (for senior level executives who have lived in the state for less than two years). For more information, please visit www.leadershipky.org.
###
About Leadership Kentucky
Leadership Kentucky, created in 1984 as a non-profit educational organization, brings together a select group of people who possess a broad variety of leadership abilities, career accomplishments, and volunteer activities to gain insight into complex issues facing the state. Our goal is to prepare our participants to take an active role in advancing the state for the common good. By fostering understanding of how the state's issues are interconnected, and by forging new relationships among community and regional leaders, Leadership Kentucky graduates bring a fresh and informed perspective to their communities and companies, serving as important participants in the unified effort to shape Kentucky's future.