BRIGHT Kentucky
BRIGHT Kentucky is designed to build the capacity of next-generation leaders (average age 21-40) in the Appalachian region of Kentucky to innovate, collaborate, and advance community and economic development. BRIGHT Kentucky will engage bright, entrepreneurial minds from all sectors and regions to offer non-partisan, ethical leadership training, expanded networks, and mentors designed especially for residents of the 54 Kentucky counties of the Appalachian Regional Commission (ARC).
Because of BRIGHT...
"BRIGHT Kentucky has allowed me to expand my professional network throughout the Appalachia Kentucky region. I now feel I have a strong cohort of peers who I can turn to in times of need, and who I can partner with on important projects that will impact the region. BRIGHT has also been an immense professional development opportunity affording me the opportunity to reflect on my leadership style and to identify areas where I can grow my skills.
Eastern Kentucky has long deserved a program where leaders from within are trained to think critically on issues facing the region and to work together to identify solutions to these problems. The people graduating from this program and the projects taking off have the power to change Eastern Kentucky forever." - Colby Kirk, BRIGHT 2019
Program Information
BRIGHT Kentucky was developed in 2019 thanks to an Appalachian Regional Commission (ARC) grant and private funding from the Whitaker Foundation and others. The ARC is an economic development agency of the federal government and 13 state governments, including Kentucky, focusing on 420 counties across the Appalachian Region. ARC's mission is to innovate, partner, and invest to build community capacity and strengthen economic growth in Appalachia to help the Region achieve socioeconomic parity with the nation. Click to view ARC County Map in Kentucky.
A major focal point of BRIGHT Kentucky is to help participants fully understand the local economic context and to build robust skill sets in communication, collaboration, consensus building, visioning, and community engagement. Participants will complete the program with the skills necessary to think long-term and strategically to build upon the strengths of their communities and lead the region to a more prosperous future.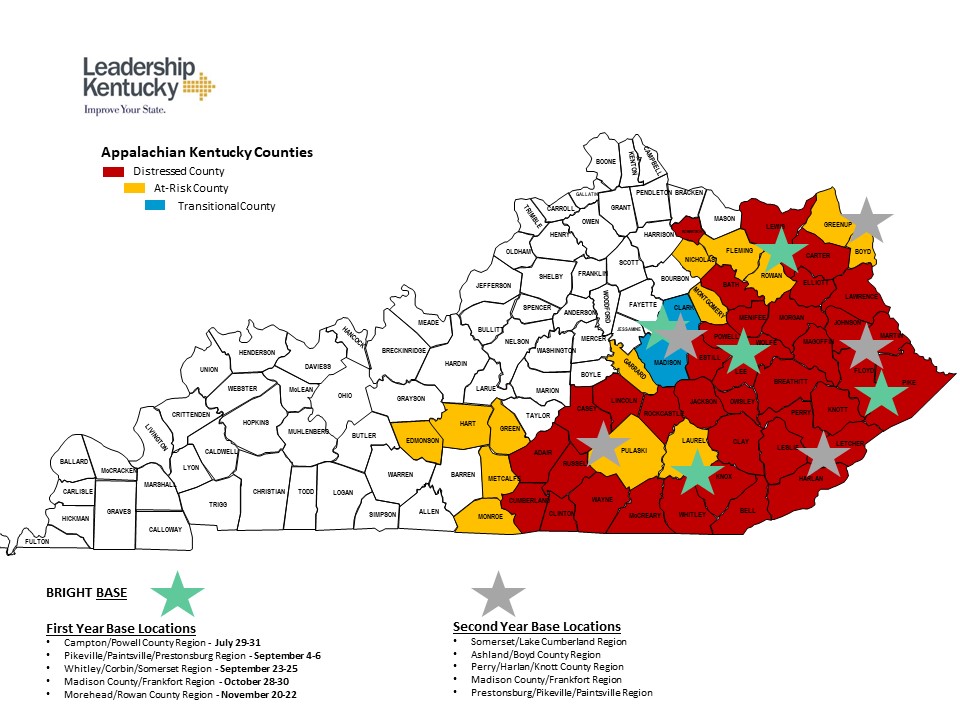 BRIGHT KENTUCKY 2022 Session Dates
July 13-15 | Cumberland Co.
August 3-5 | Ashland
September 7-9 | Pineville/Bell Co.
October 5-7 | Pikeville
November 2-4 | Berea/Frankfort

We are planning to meet in person but will continue to follow the CDC/State guidelines in place. These dates are subject to change.
BRIGHT Kentucky Participants
The target audience for participation is Eastern Kentuckians representing the next generation of leaders (average age 21-40 years old). The curriculum is designed to inspire and energize participants who live and work in Eastern Kentucky to stay in Eastern Kentucky and make a difference in their home communities. It is expected that participants will attend all sessions, but the first session in July is mandatory.
Program participants must live and/or work in one of the 54 Kentucky counties of the Appalachian Regional Commission (ARC). The region includes the following counties: Adair, Bath, Bell, Boyd, Breathitt, Carter, Casey, Clark, Clay, Clinton, Cumberland, Edmonson, Elliott, Estill, Fleming, Floyd, Garrard, Green, Greenup, Harlan, Hart, Jackson, Johnson, Knott, Knox, Laurel, Lawrence, Lee, Leslie, Letcher, Lewis, Lincoln, McCreary, Madison, Magoffin, Martin, Menifee, Metcalfe, Monroe, Montgomery, Morgan, Nicholas, Owsley, Perry, Pike, Powell, Pulaski, Robertson, Rockcastle, Rowan, Russell, Wayne, Whitley, and Wolfe.
BRIGHT Kentucky Application
Applications for 2022 will be available soon. If interested in participating in 2022, please send an email to LKY@leadershipky.org.
If you have any questions, please e-mail LKY@leadershipky.org.
BRIGHT Kentucky is made possible by a grant from the Appalachian Regional Commission (ARC) and private funding from the Whitaker Foundation and others.