We all think that we were part of "The Best Class Ever!" We need your support to ensure that each year our class members continue to feel that their experience is the 'best ever." Your alumni dues help to support the success of the program and are greatly appreciated. You can pay your alumni dues online here.
Our goal is also to increase opportunities for alumni to get together throughout the year. We would love to hear your suggestions for entertaining and informational ways to make that happen in your local regions. Please feel free to email Janice Way at jw@leadershipky.org or call 502.695.1102 if you have ideas or would like to help organize an event in your community.
Are you an alum? Do you receive our monthly e-newsletters? If not, sign up to join our mailing list today! Be the first to know about Leadership Kentucky news, updates, trips, classes, and more!
How to stay or get involved with Leadership Kentucky TODAY: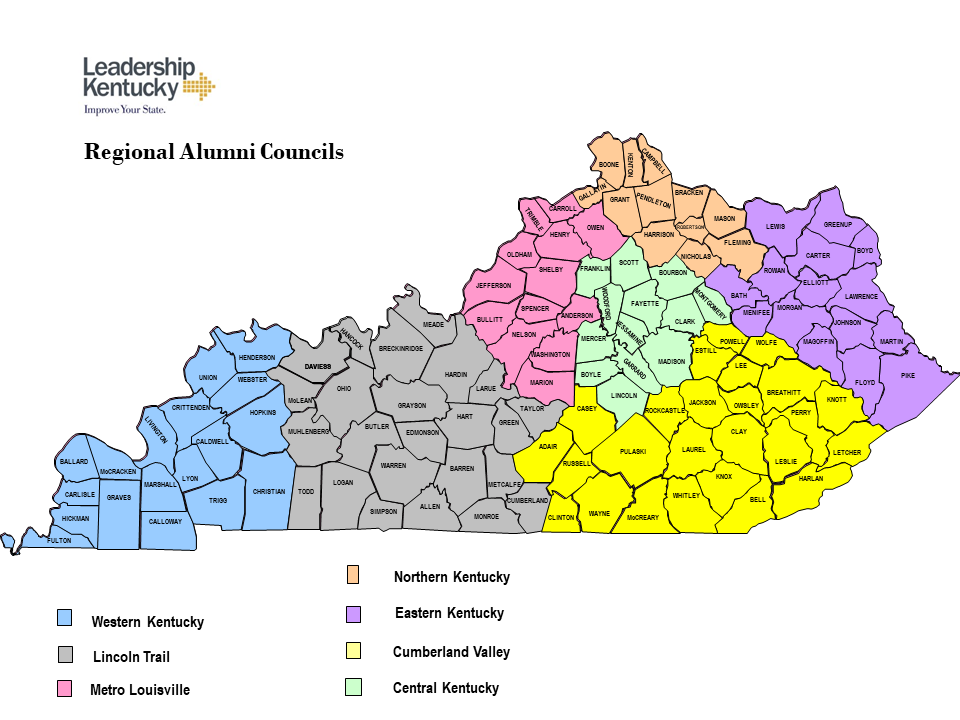 Regional Councils
You asked for it! We are thrilled to announce Regional Councils for alumni. We know your class is the "best class ever" but it's often hard to have reunions with everyone across the state. We hope each region will work together to host networking events and fun experiences and tours a little closer to home. You may not realize your neighbor or co-worker is an alum! Check out the map to identify your region. We're looking forward to enhancing your Leadership Kentucky experience at home!