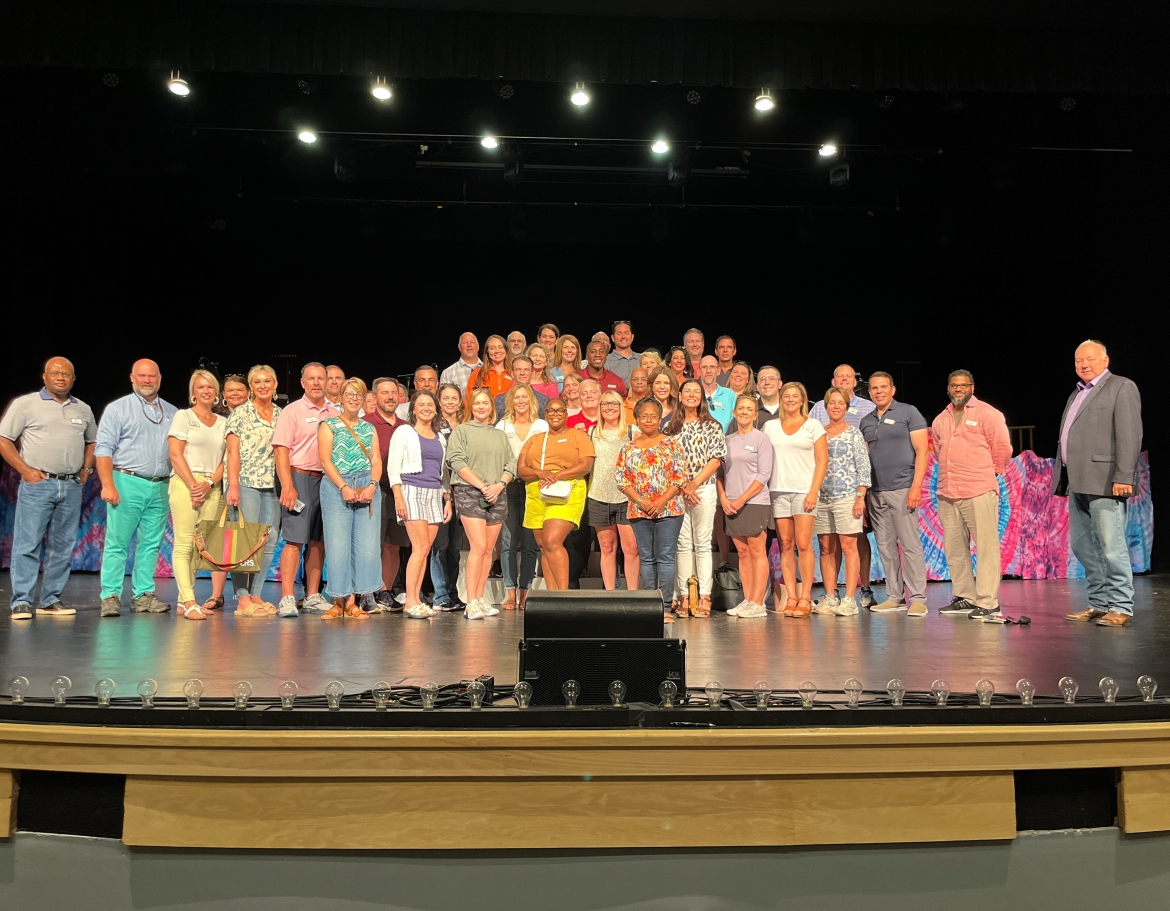 By: Julie Nelson Harris, Leadership Kentucky 2022
If the July session of Leadership Kentucky was meant to be described in one word, this is its definition:
Pride: A feeling of deep pleasure or satisfaction derived from one's own achievements, the achievements of those with whom one is closely associated, or from qualities or possessions that are widely admired.
The Class of 2022 found plenty of it in the rolling hills of Eastern Kentucky, where magnificent views and smiling faces greet you at every turn. Being immersed in this region's beauty made it easy to understand on the surface from where this pride comes — learning about its story and its generational challenges helped build a deep appreciation for those who choose it as their home, who dedicate themselves to changing the narrative to make Eastern Kentucky a strong, thriving place to work, live, and play.
Many who spoke to the Class of 2022 throughout this two-day session epitomized the saying "home is where the heart is" — pride teeming from their faces as they spoke about their communities. This was certainly true of members of Pikeville's leadership team — Mayor Jimmy Carter, City Manager Philip Elswick, Economic Development Director Jill Dotson-Fraley, and Southeast Kentucky Chamber Director Jordan Gibson — who emphasized the importance of comprehensive planning and regional partnerships to achieve growth. While Pikeville is challenged with access to transportation because of its topography and distance to an interstate, it leans on its natural beauty, history, tourism, and services to draw people from all corners of the country. If we heard it once, we heard it often: "If we can get them here, we know they'll come back."
We learned about the region's history, so aptly told by BitSource Co-Owner Rusty Justice, who prides himself in being a well-versed historian and storyteller for the region. Rusty explored Appalachia's cultural and biodiversity (one of the most biodiverse regions in the world), the reasons it suffers from poverty (a geographically bound region with persistent flooding and lack of water transportation and agriculture) and the stereotypes that plague its people (degraded, violent, placeless, and white). Lest we think the story is all doom and gloom, Rusty made sure to close with why Pikeville is different and successful: It is an economically diverse community with good schools and historically enlightened leadership that isn't afraid of big ideas.
Pride.
We found it in the Blueprint for the Future of Appalachia, which Shaping Our Appalachian Region (SOAR) Director Colby Hall shared with the group. SOAR has a plan for where it wants Eastern Kentucky to be in 2033 — more connected with broadband and device access, more populous and participatory in the workforce, and healthier — and will create resources, build relationships, and bring people together to get it there.
All anyone had to do was look in the eyes of second grader Jax Marshall, his grandmother, Latonya Taylor-Rowe, and Community Economic Development and Revitalization (CEDAR) Executive Director John Justice to see pride runneth over. For Jax, it was in the project that earned him the title of CEDAR Student of the Year in the Future of Work in Appalachia Regional Student Fair — a robot that would help busy eastern Kentucky families run errands to save time. For Latonya, a Johnson County teacher, it was not only in watching her grandson excel, but in teaching Jax and so many other students how to be entrepreneurs through CEDAR's curriculum.
But for John, pride encompassed Latonya and Jax's presentation plus something much greater — seeing the fruits of CEDAR's efforts to create an economic shift in Eastern Kentucky from one of coal to one of innovation and entrepreneurship.
Innovation was never more evident than through tours of Pikeville Medical Center and the University of Pikeville, where we learned about the many programs and amenities that have led to growth and excellence in healthcare and education. CEOs of both organizations — PMC's Donovan Blackburn and UPike's Burton Webb — emphasized with pride the importance of community, communication, and collaboration in their success, and encouraged class members to lead with empathy, as identifying needs and ways to solve them has proved to be a winning equation in Pikeville.
And then there were the young women: The five stellar young women representing a larger group of 11th-grade females from across the region who proudly boast they are East Kentucky Strong. Through this volunteer-run program, young women learn what it means to be from Eastern Kentucky, receive resources for personal growth, and participate in conversations that help them identify who they are and what they want for their future and the future of their region and state. To say it was an inspirational presentation would be an incredible understatement.
Pride is not just a Pikeville thing, and we learned that when traveling to neighboring Prestonsburg to hear from Mayor Les Stapleton about the community's success in tourism, arts, and cultural efforts. Pride lines the walls of the Mountain Arts Center in murals that celebrate music and culture, it walks the trails on Sugarcamp Mountain, and downtown Prestonsburg, and skips across the fairways and greens at Stonecrest Golf Course.
In the end, we found pride in the most important place, amongst ourselves. Class panels explored the passion those in healthcare and education have for their industries and the challenges they are determined to take head on. Internal conversations explored the pride we have for being in this program and a resident of this state. And as the session came to a close, we discussed as a group the importance of celebrating who we are as Kentuckians and sharing the stories of our communities and industries.
Pride. That's how you create generational change. And as we learned in July, it's happening in Eastern Kentucky and beyond.