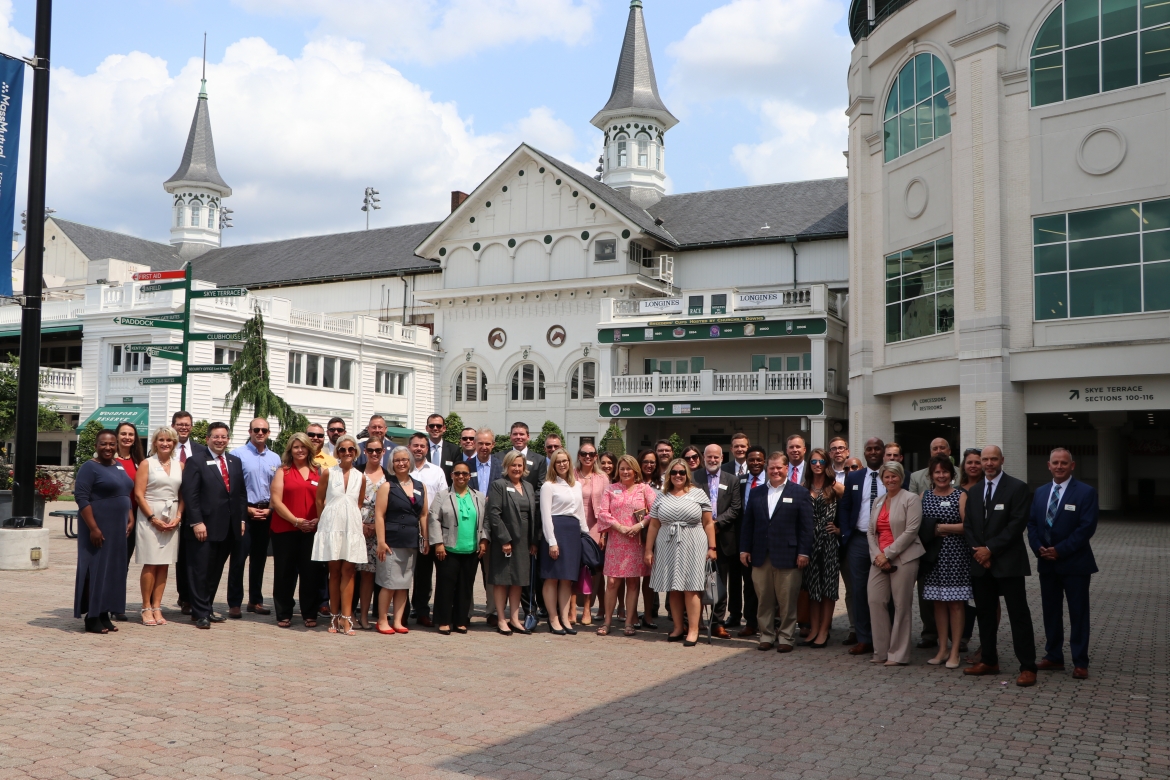 Written By: Lisa Crowe, Leadership Kentucky Class of 2021
Barnes & Noble College, Director, Stores
Winchester, KY
After an incredible Leadership Kentucky opening session in Berea, the group headed to the great city of Louisville for our second session together.
Our first stop was the magical grounds of Churchill Downs, which currently holds the record for the longest-running, continuous sporting event in America, dating back to 1875. We kicked off our day at Churchill with the Leadership Kentucky Annual Alumni Luncheon where we connected with past class members and had the time to forge some new relationships from across the state.
Following lunch, we had the absolute pleasure of hearing from Dr. Neeli Bendapudi, 18th President (and first female president) of the University of Louisville. Dr. Bendapudi shared her views on leadership from her own experience and captivated the audience with her take on leading through the pandemic, building strong internal teams, and how to shift during a crisis.
Following a tour of Churchill Downs, the group was able to take in a Louisville City FC game at the newly opened Lynn Family Stadium. With a capacity of 15,000 and the largest soccer-specific stadium in the region, it is a shining star in downtown Louisville. Fans were excited to take part after emerging from a year that has been fairly isolating.
Day two began aboard the Belle of Louisville with a history of Waterfront Park which has been instrumental in the revitalization of downtown Louisville. A walking tour of the park gave us insight into the detailed planning of each facet with emphasis on Phase IV of the project which will bring a 22-acre expansion to the west of the city.
The Waterfront Botanical Gardens was the next stop where we heard about the vision of sustainability and a mission of cultivating urban botanical gardens that educate, inspire, and enhance appreciation of the relationship between plant life and a healthy environment.
The gardens were a perfect setting to take a deep dive into racial justice and equity with panel members from the Louisville Metro Police Department, the Pegasus Institute, and One West with the moderator being our very own OJ Oleka, President of the Association of Independent Colleges and Universities and a 2021 class member of Leadership Kentucky. While the conversation was highly charged, it opened the avenue for deep discussion and sharing from a multitude of perspectives. This session would provide a framework for future sessions, and a challenge to take these conversations back to our communities all across the Commonwealth.
Next was a stop at Waterstep, a truly innovative non-profit organization with a mission of solving the problem of access to clean water in developing countries by training members using simple tools. While there, we also enjoyed a talk from Rob Samuels of Maker's Mark. Rob gave us a history of how his grandparents launched Maker's Mark in the 1950's and how they have stayed true to their vision throughout the years.
On our final day in Louisville together, we had some fun touring the Kentucky Science Center and hearing from Dr. Tori Murden McClure, President of Spalding College. Dr. McClure may be best known as the first woman to row solo across the Atlantic Ocean, first woman to ski to the geographic South Pole, and first woman to climb the Lewis Nunatak in the Antarctic. What a true inspiration to hear about how she found the strength to continue in the face of defeat. Her solo row across the Atlantic is documented in her book, A Pearl in the Storm. It was both a highlight and perfect ending to our Louisville session.
After a year of isolation for many, we feel lucky to be able to have these shared experiences with other leaders from across the state. This session in particular gave us all so much to take back to our communities to build a better Kentucky!