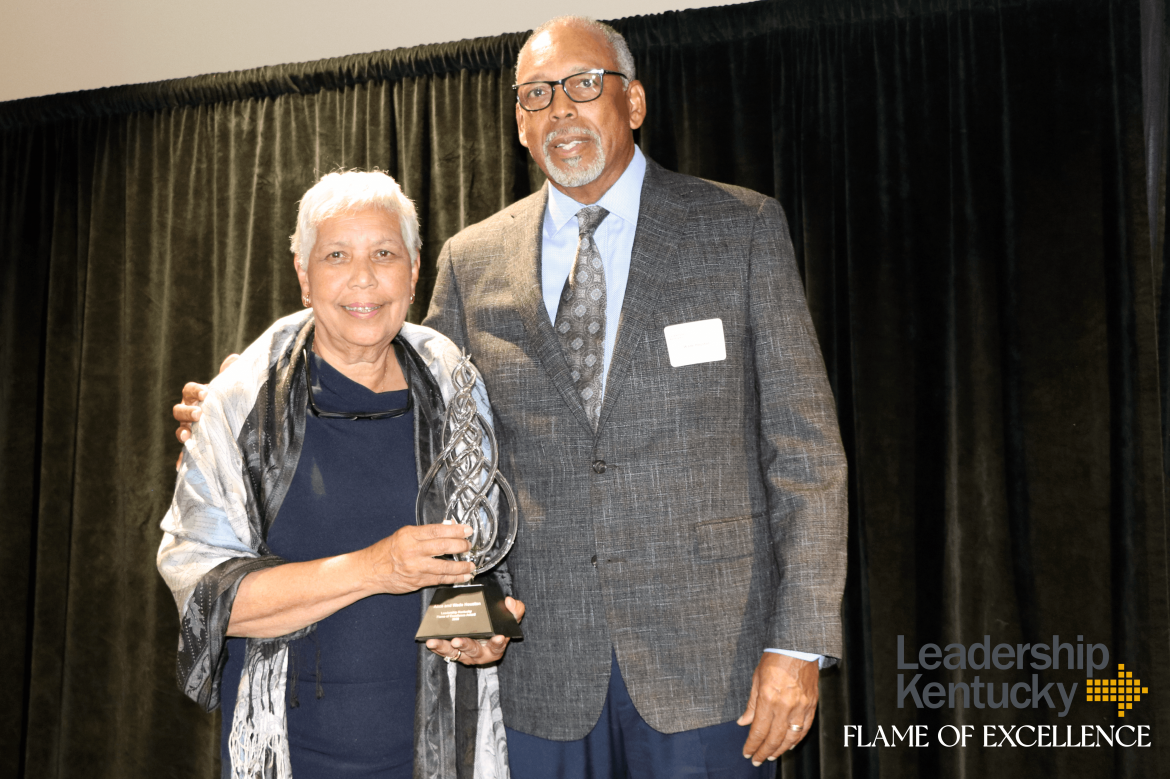 Leadership Kentucky Awards Flame of Excellence to Alice and Wade Houston
FRANKFORT, Ky. (July 28, 2021) Leadership Kentucky presented Alice and Wade Houston with the Flame of Excellence award during the 19th Annual Alumni Luncheon in Louisville, Ky. at the Churchill Downs Racetrack on July 14, 2021.
The Flame of Excellence award honors outstanding Kentuckians who bravely light the way for others.
Co-founded by Alice and Wade Houston, Houston-Johnson, Inc. (HJI), is based in Louisville, Kentucky, and has provided logistics services to leading corporations since 1994.
Wade is a former college basketball player and coach at the University of Louisville. In 1970–71, Wade played professional basketball in France, after which he became an assistant coach at U of L, then head coach at the University of Tennessee, where he became the first African American head coach in the Southeastern Conference. Wade's commitment to business began in the early 1980s when he and his college roommate opened a convenient type grocery store to service Louisville's West End community. This expanded to a long career in the trucking and transportation business. Wade served as Executive Vice President and part-owner of HJI Supply Chain Solutions until August 2020. Aside from his business interests, Wade is and has always been, active in his community. He regularly gives speeches and motivational talks to various civic organizations and clubs.
After an extensive education and career at the University of Louisville, in 1988, Alice joined a series of family businesses which collectively became the second-largest minority-owned company in the U.S. and the largest minority-owned transportation company in North America during the 1990s. In 2001, Alice focused on developing HJI Supply Chain Solutions and became President/CEO in 2005. HJI is a logistics provider and warehouse management entity. HJI was honored in 2018 & 2019 by Yangfeng Global Automotive Interiors with the Supplier Diversity Excellence Award. In August 2020, Alice resigned as CEO.
Following her resignation, Alice and Wade transitioned the business to the next generation of their family. The Houston's have three children and 15 grandchildren. Both Alice and Wade serve on scores of boards and have received numerous awards for their contributions and dedication to their communities.
The Flame of Excellence has been awarded since 2002. Past recipients include former Governors Edward T. "Ned" Breathitt (2003) and Martha Layne Collins (2005), David A. Jones of Humana, Inc. (2008), William T. Samuels, Jr of Maker's Mark (2012), and most recently, Mira Ball of Ball Homes and Donamire Farm (2019).
Leadership Kentucky brings together individuals with a broad range of leadership abilities, career accomplishments and volunteer activities to share insight into complex issues facing the state, while celebrating their impact on the Commonwealth.
###
About Leadership Kentucky:
Leadership Kentucky, created in 1984 as a non-profit educational organization, brings together a select group of people who possess a broad variety of leadership abilities, career accomplishments, and volunteer activities to gain insight into complex issues facin­g the state. Our goal is to prepare our participants to take an active role in advancing the state for the common good. By fostering understanding of how the state's issues are interconnected, and by forging new relationships among community and regional leaders, Leadership Kentucky graduates bring a fresh and informed perspective to their communities and companies, serving as important participants in the unified effort to shape Kentucky's future.