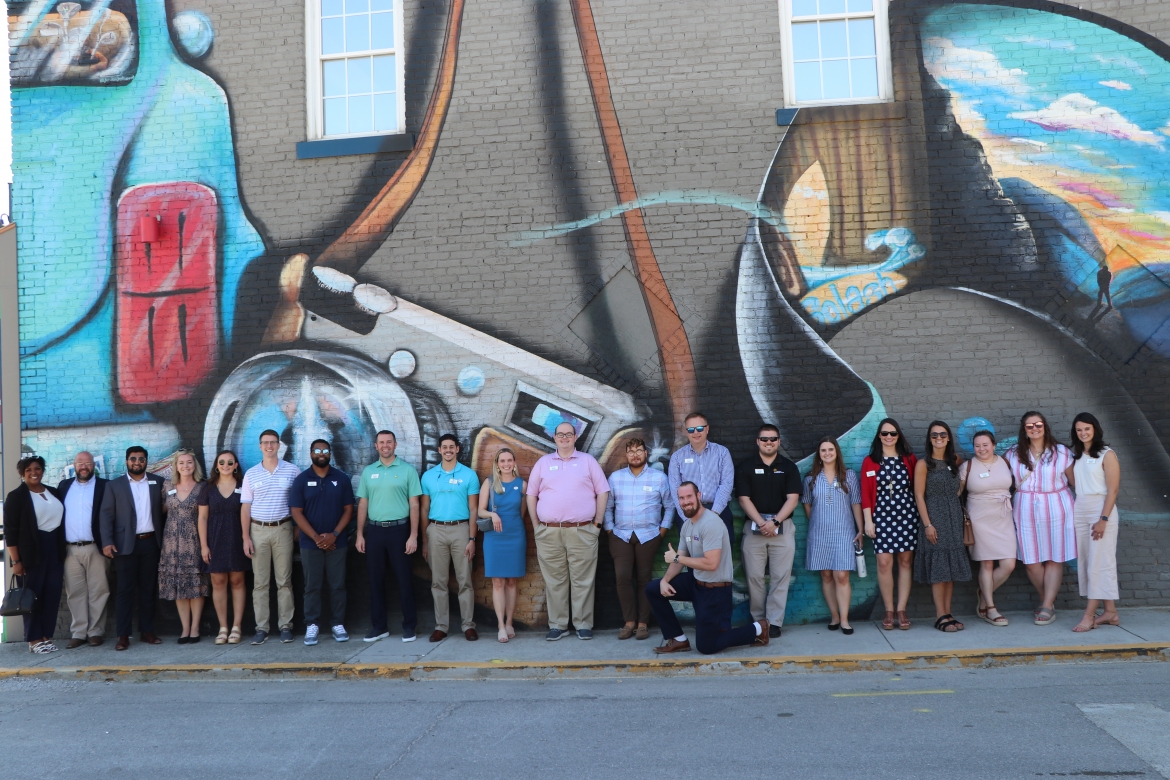 ELEVATE Kentucky Class of 2022 | Somerset, KY visit
By: Lexy Holland
Elevate Class of 2022
Associate Attorney, Wyatt, Tarrant & Combs, LLP

Keifer Adkins, Somerset native and Flashback Theater Co.'s Community Development Coordinator, kicked off the second session of the ELEVATE Leadership Kentucky program with this passionate introduction to his corner of the Commonwealth.
"Contrary to our name, Somer-set is not set; we are shifting. And, though that progress was slow to start, our patience will teach us that the process is more revelatory and life-affirming than the end goal. And, finally, the more we work to not only bond but bridge diverse divides and generational gaps, we will never dry up. We will flourish."
Keifer wasn't the only local leader determined to shift the narrative not only in their town, but an entire prospering region.
Bobby Clue, Executive Director of the Somerset-Pulaski County Chamber of Commerce; Alan Keck, Mayor of Somerset; and Chris Girdler, the President and CEO of the Somerset Pulaski Economic Development Authority gave inspiring examples of local leadership and regional cooperation. Their comments segued perfectly into an arts and culture walking tour, where we had the opportunity to visit the soon-to-open and recently remodeled Virginia Theatre. It was clear that Somerset's leaders have worked hard to finish a project that will advance the arts significantly in the community.
Next, the class heard from Leslie Ikerd of City of Somerset Tourism, Michelle Allen of Lake Cumberland Tourism, and Alison Pyles of Burnside Tourism, who described the significant impact of one of the Eastern United States' largest manmade lakes. Following their introduction into the economic driver that is the beautiful Lake Cumberland, we traveled to Lee's Ford Marina for dinner at the Harbor Restaurant.
None of us were prepared for what came next. On the second day of our session, we visited the Center for Rural Development, where we would spend the next several hours engaging in a Simulated Society Experience through Well Said Public Relations, LLC. "SimSoc" is a challenging "game," of sorts, used to demonstrate to groups the challenges of participating in and running a 21st-century society. We were presented with imbalances in socioeconomic status, differences in communication styles, power dynamics, and views of societal justice. In the end, we walked away with a significantly different understanding of the complicated dynamics of organizations. Following our SimSoc experience, we debriefed and socialized with the Young Professionals of Lake Cumberland at JarFly Brewery.
Finally, on the last day of our Somerset session, we had the opportunity to hear from local young business leaders about challenges they've faced before re-examining our own communication styles as they play out in our workplaces. To wrap up the session, we learned the ins and outs of proper business-meal etiquette with Les Fugate of the Brown-Forman Corporation.
We learned a tremendous amount about ourselves and the Lake Cumberland region and can't wait for our last session in Central Kentucky!