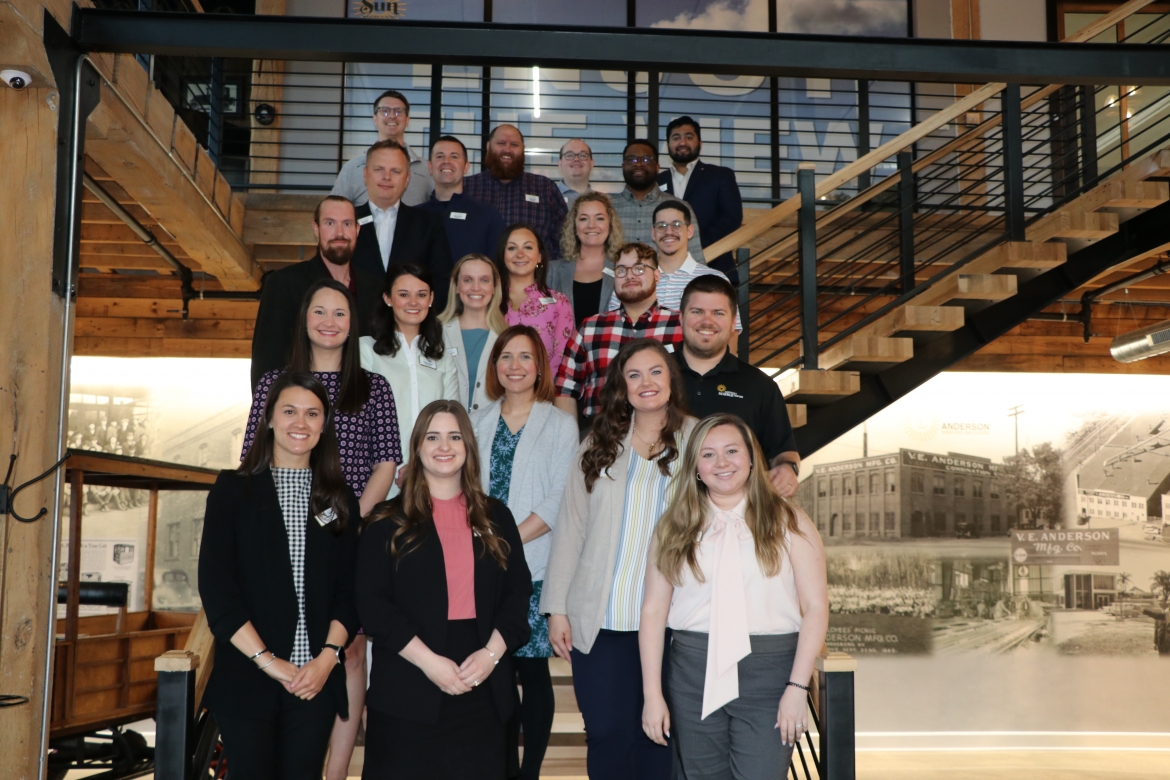 Written By: Hailey Anderson, Elevate Class of 2022, Director of Membership Development, Murray-Calloway County Chamber of Commerce, Murray, KY
The 2022 ELEVATE Kentucky class met in Owensboro for its opening session April 20-22, 2022.
The program kicked off at the Greater Owensboro Chamber of Commerce where Candance Brake, President & CEO, gave a warm welcome to the class. While at the Chamber, we had an ELEVATE 101 program overview and introductions to learn more about our classmates. We heard from Father Larry Hostetter, President of Brescia University, on moral virtues and ethics. He encouraged class members to establish moral rules for themselves to become better leaders. Our first night included a visit to the International Bluegrass Music Museum & Bluegrass Hall of Fame where we learned about the history of bluegrass music and had the opportunity to listen to a local bluegrass band. We ended the night with a trip to Green River Distillery to learn about their rich history and rebranding story. While at the distillery, the class enjoyed a tour, tasting, and delicious Moonlight Barbeque.
Prior to officially starting ELEVATE, Karen Butcher, our ELEVATE Program Coordinator, asked each member of our class to complete the DiSC Workplace Assessment. Our second day in Owensboro gave us the opportunity to dive into our DiSC assessment results and learn more about our own workplace priorities and how to better connect with colleagues whose priorities and preferences differ from ours.
Our second day in Owensboro continued with industry highlights including a tour of Sun Windows and Doors where we learned about manufacturing, lunch at the Western Kentucky Botanical Garden where we discussed agriculture, and a visit to the Owensboro Riverport Authority where we gained a greater understanding of transportation, logistics, and supply chains. The class later took a history of Owensboro - Downtown walking tour with Dave Kirk from Visit Owensboro, which sparked great conversation about our communities and downtown revitalization efforts. The day wrapped up at Brew Bridge Brewery.
To conclude our first session of the ELEVATE 2022 program, the class spent the day at Owensboro Health Regional Hospital. We were able to tour the beautiful facility, heard from a panel of hospital representatives on workforce issues in the healthcare industry, and learned about the initiatives Owensboro Health have put in place to better connect arts and healthcare. Nick Brake, Ph.D., Western Kentucky University, later led a discussion on our roles in community leadership and reviewed a study on components of a thriving community. We also heard from Elizabeth Griffith, Greater Owensboro Economic Development Corporation, on the Impact 100 and Impact 100 Next Gen programs as well as hearing about the Owensboro Public Life Foundation from Joe Berry, Executive Director.
Throughout this first session, we conducted class career panels, which allowed us to learn more about what specifically our classmates do in their everyday roles as well as learning more about what they are passionate about outside of work. This session highlighted classmates in the financial and healthcare industries.