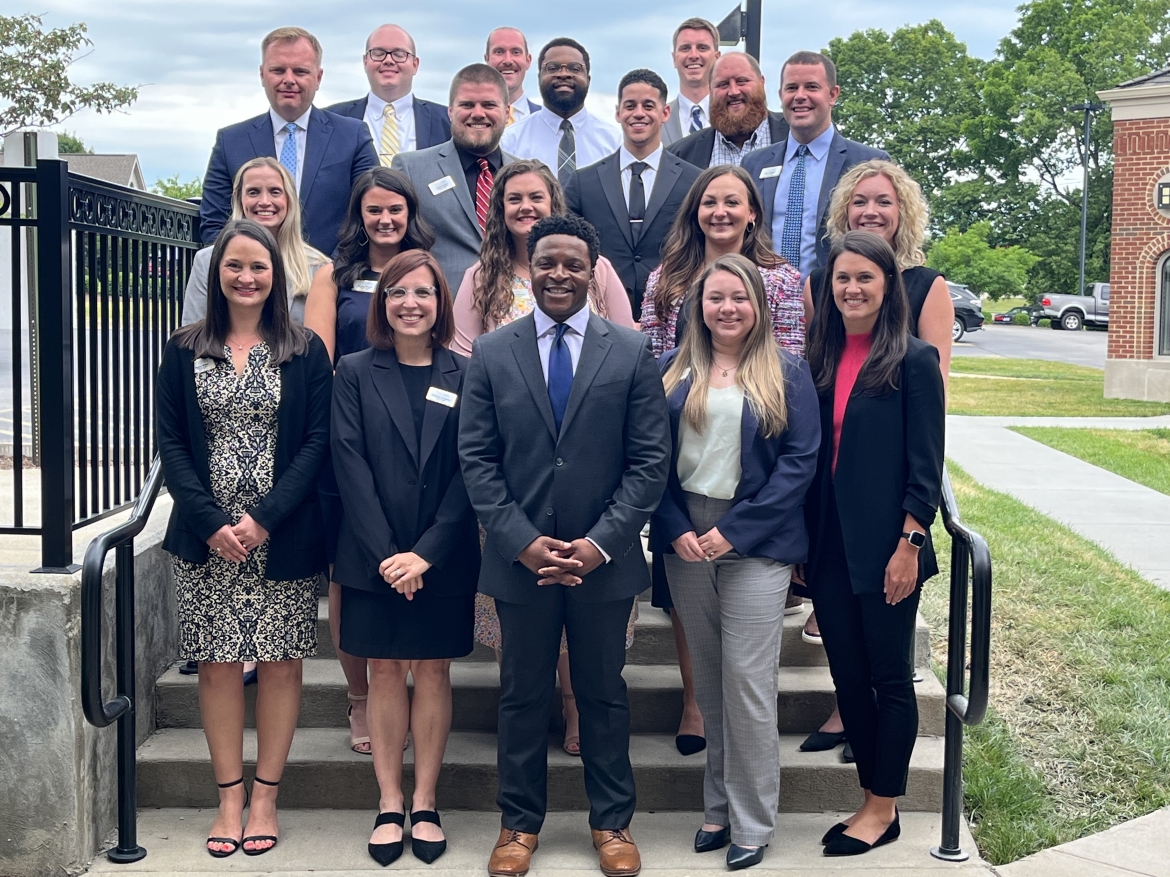 By: Joy Andrade-Stemle
ELEVATE Kentucky Class of 2022
Epidemiologist/Manager, Kentucky Department for Public Health

Our third and final session was one to remember. We began the session at the State Capitol, which was the perfect way to kick off our session. On the first day, we got to hear from some of Kentucky's most impactful leaders: Senator Morgan McGarvey, Senator Robert Stivers, Representative Philip Pratt; Beth Davisson; VP Kentucky Chamber of Commerce; Jim Gray, Secretary of Transportation; Allison Ball, Kentucky State Treasurer; Dr. Eric Friedlander, Secretary of Health and Human Services; and Ryan Quarles, Agriculture Commissioner.
Each leader spoke about the distinct roles they play and how that impacts Kentucky. Allison Ball shared an inspirational story about finding purpose in life and looking for our legacy. We learned that while Kentucky is often portrayed as divided, we have many more commonalities than differences. While touring the Capitol, we were able to learn the history and thoughtfulness that went into constructing it, all while admiring the beauty of the architecture. I know we all left the Capitol feeling inspired and passionate. We finished off the first day with a reception at Foundry on Broadway with Leadership Kentucky's Board of Directors.
On the second day of the session, we traveled to the beautiful area of Northern Kentucky. There, we met the President and CEO of Southbank Partners, Will Weber, who educated us on his organization, the World Peace Bell, and the Purple People Bridge. We had the pleasure of hearing the bell ring, which was especially memorable. A driving tour highlighted some beautiful spots around Northern Kentucky. We then heard from Brent Cooper, President and CEO of Northern Kentucky Chamber of Commerce; Ashleigh Dubois, Talent Strategist/ Director of Diversity, Equity, and Inclusion of NKY Chamber; Julie Kirkpatrick, President and CEO of the Northern Kentucky Convention and Visitors Bureau; and Tom West, Economic Development Director for the City of Covington. We learned so much about how resilient and adaptive the Northern Kentucky Chamber was during the Covid-19 pandemic. They spoke on how the success of the Chamber heavily depended on their ability to adapt. Speakers expressed they have come out of the pandemic with a more collaborative and creative mindset. Many of the projects in Northern Kentucky have been works of collaboration between the cities and counties along the river.
Cara Brooks, Community Relations Manager at Duke Energy, and Will Weber then took us on an adventurous walking tour of the Covington area. Our last stop of the day was the Purple People Bridge where we learned about tackling bridge repairs and the future of the Bridge. Hearing from Mark Policinski, Chief Executive Officer of the Ohio-Kentucky- Indiana Regional Council of Governments; Davis Robinson, Director of Leadership Academy for St. Elizabeth Healthcare; Donna Salyers, Founder and President of Donna Salyers' Fabulous-Furs; Ken Lewis, Founder and CEO of New Riff Distilling; and Mayor of Newport, Tom Guidugli, Jr. We ended the day by enjoying Newport's ItalianFest. There was a quote made that really stood out, "If you want to go fast, go alone, if you want to go far, go together." I think we can all agree that going far with one another is much more valuable than going fast all alone.
Our last day of the ELEVATE program was spent at the Scott County Library where Johnathan Nelson, Ph.D. spoke on resolving conflict. We exercised what we learned by having to negotiate against one another and eventually come to a compromise. During a break, we were able to admire the Science In Play 2 GO exhibit which is the Kentucky Science Centers' creative way of bringing science to kids across the state. We finished the day by hearing from OJ Oleka, Ph.D., who was incredibly inspiring. We were in awe of his story and felt that we needed to step up. We heard how anything is possible when you work for it. I can't imagine a more impactful way to finish our program. We all felt a call to action to go back to our communities, our jobs, and to insight change. We are officially ELEVATE Kentucky Alum and we're excited to be joining such an amazing group of people.