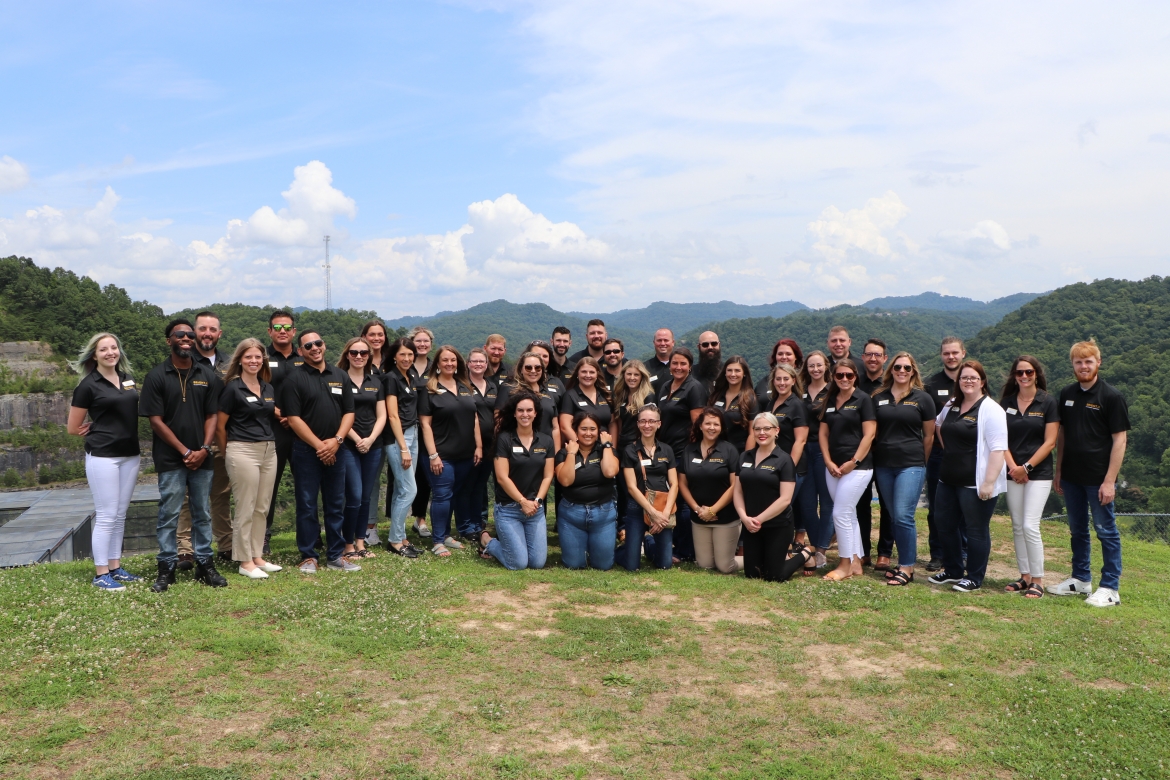 Written by: Lauren Kirby, Senior Administrative Assistant, Christian Appalachian Project, INC., BRIGHT Class of 2023
Having been raised in Southeastern Kentucky, a trip to the far eastern part of the state was a wonderful experience. The first session kicked off at the University of Pikeville's Health Professions Building with a welcome from the Leadership Kentucky staff and BRIGHT visionary Elmer Whitaker. We had a chance to meet the other professionals in the room and get to know each other.
Day one was very busy with Dr. Lori Werth, Provost at UPike, and Gary Justice, Dean of Admissions, introducing the class to incredible opportunities students have at the University of Pikeville. Through thoughtful preparation and big visions, students can receive one of the best educations in the country in a small, intimate environment that sets them up for success. After seeing a small portion of what UPike has to offer, the class was treated to a FUN surprise with BRIGHT Alum and Pikeville Tourism Assistant Director, Lauren McCoart. Pikeville Amazing Race was a chance for us to stretch our legs by exploring the colorful downtown while building our teams through cooperation and a lot of laughter. Some competitive talk was shouted across the sidewalks, but all in good fun!
The Race ended at the Historic Garfield House where former Kentucky Governor Paul Patton and Dr. Burton Webb, President of UPike, continued the push for excellence. Governor Patton is a living legend known for his investments in education. Dr. Webb shared an influential lesson on servant leadership, ending the first day on a high note of building a leadership legacy rooted in ethics and vision.
Day two continued Pikeville's pursuit of excellence with a tour of the Workforce Innovation Center at Pikeville Medical Center (PMC) where we had the chance to see how PMC is taking an active approach to combat the local medical workforce shortage. By introducing students in kindergarten to medical careers and continuing a hands-on experience through high school, students have an idea of what opportunities are available to them close to home, earn a degree or certificate at an affordable cost, and receive employment before they graduate! Again, the theme was active and visionary.
A trip to the Overlook Center gave us the chance to view the Pikeville Cut-Through Project while Rusty Justice provided context and the incredible history of Pikeville and Mayor William Hambley. Perseverance and belief in a better Pikeville allowed Mayor Hambley to seek opportunities for funding and set a long-term plan that is still evident of success today. Without the Cut Through, Pikeville as we know it would not be possible.
Dr. Jordyne Carmack provided the afternoon session with an activity in setting up a personal mission and vision statement. Authentic leadership begins with those items – how can you get where you are going if you don't even know where you are?
By the third day of the first session, we didn't think it could get any better – many of us were on fire for Eastern Kentucky and ready to go back and start implementing the topics and ideas we had discussed. But we weren't finished yet! A quick trip to the Mountain Arts Center in Prestonsburg allowed us to hear from Les Stapleton, Mayor, about the history of the arts in Eastern Kentucky. We stood on the stage where many EKY greats were before – Loretta Lynn, Tyler Childers, Chris Stapleton, and so many more. Dr. Amanda Slone, Assistant Provost at UPike, followed up with a session about the perceptions of Appalachia and how we can impact those as emerging leaders, careful to take the history of our people and honor it with dignity and respect while staying true to our roots. Wrapping up was Tucker Davis, President of the Kentucky Coal Association. This was once again, a conversation about active leadership, deciding to move forward without hesitation, and moving on with a willingness to make things around you better.
Upon dismissal, many chose to get lunch around Prestonsburg before departing and made plans for the next session just under a month away. We are all so grateful for the opportunity provided by Elmer Whitaker and The Whitaker Foundation, Kentucky Power/AEP Foundation, Appalachian Regional Commission, and the Leadership Kentucky network of professionals that have made this gathering possible. I'm proud to be an Appalachian leader and I'm grateful to be able to sit with executives, governors, mayors, doctors, educators, and medical professionals that have one goal in mind – make Eastern Kentucky a leader in all areas. Dream big, get going, invest in the future, and make changes with a team. See you next month, BRIGHT!