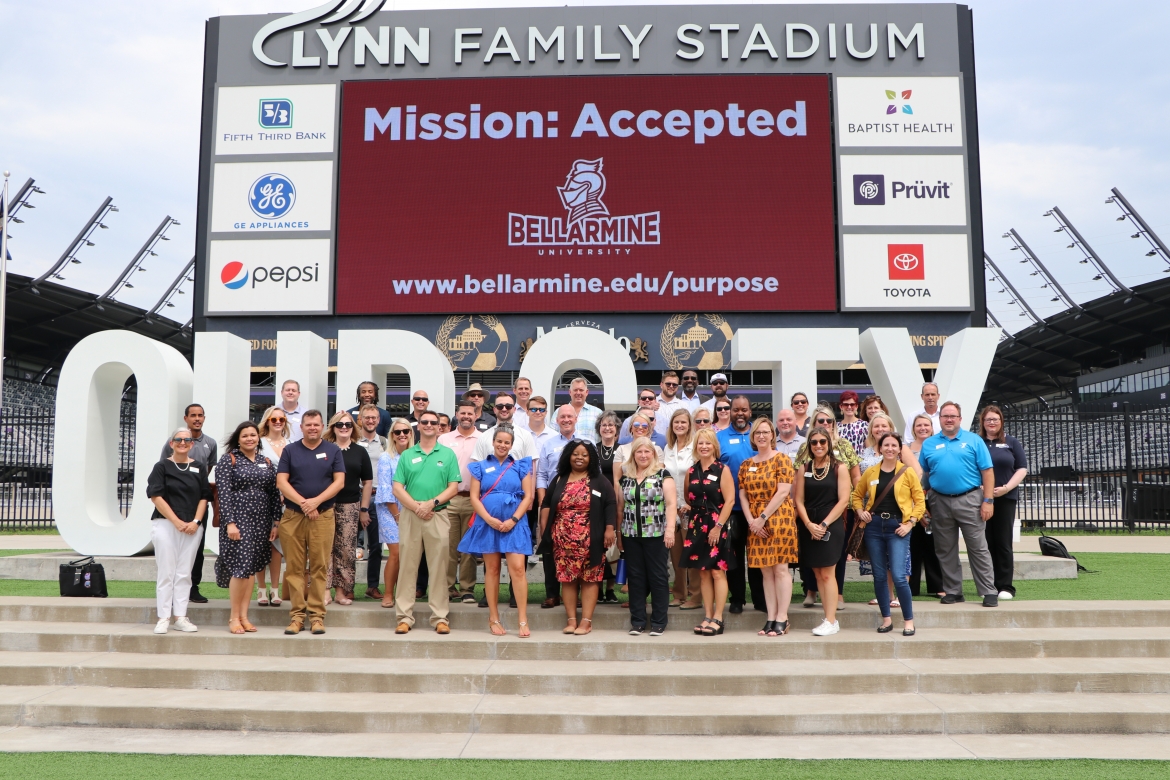 Written by: Chris Nation, Vice President, RunSwitch PR, LKY Class of 2023
Coming off the heels of a thought-provoking and impactful experience in Berea, the 52 members of the Leadership Kentucky Class of 2023 headed to Louisville, KY for our second session.
Louisville is Kentucky's biggest city with many opportunities, economic powerhouses, cultural experiences, and equally, many challenges that come with larger cities. Our group had the privilege to experience several city gems and have discussions on topics ranging from public safety, tourism, community, and the arts.
After arriving at the Galt House Hotel in downtown, our group embarked to The Healing Place to learn about their incredible work in helping those with addiction and those needing access to food and shelter. Hearing from Executive Director Jay P. Davidson and several graduates of their nationally recognized recovery programs, we were given a tour of their facilities and saw firsthand how they are helping so many that need it across our state. During this time, several members of our class that work in the nonprofit sector participated in a group panel to discuss how their organizations impact the Commonwealth and the unique strengths and challenges they experience.
Following these discussions, our class departed to learn about LouCity FC and Racing Louisville FC. Upon arrival, we were given a tour of the Lynn Family stadium by George Davis IV (Foundation's Program Director) and an opportunity to hear from James O'Connor (President), Danny Cruz (LouCity FB Head Coach), and several players. During these conversations, we learned about how the teams, players, and their fans impact Louisville and help grow the sport of soccer throughout Kentucky. Many former Leadership Kentucky alumni joined us for a reception and dinner in the Fifth Third Club.
Day two started off bright and early at the Louisville Zoo. An educational and entertainment destination for our state, our class started out in the Gheens Room at Islands Pavilion learning all about the Zoo and its many assets from our very own classmate, Dan Maloney, Director of the Louisville Zoo. We were provided a behind-the-scenes experience to meet and interact with several zoo animals, including petting a Rhinoceros.
While still at the Zoo, my classmates and I had the incredible opportunity to hear from Dr. Tori Murden McClure, President of Spalding University. Dr. McClure's accomplishments are inspiring. She shared with us about her journey across the Atlantic Ocean, becoming the first woman to row solo across it and to climb the Lewis Nunatak in the Antarctic. From start to finish, our group learned about struggle, perseverance, vision, hope, and leadership.
Before we left the Zoo, we finished with a discussion on public safety and justice centered on the Louisville Metro Police. Led by Metro Councilwoman Paula McGraney, a panel representing LMPD, Metro Government and the US Attorney's Office discussed the recent findings of The Department of Justice Investigation and Consent Decree Process. We learned more about this process and asked questions about how Louisville moves forward and how this impacts the Commonwealth.
Following this, our class arrived at L&N Credit Union Stadium to learn more about the University of Louisville. While eating lunch at the Angel's Envy Club, we heard from Athletic Director, Josh Heird, and Interim Provost Dr. Gerry Bradley. We learned about how UofL impacts the Louisville community and the great programs that are happening at UPS Metropolitan College.
If this was not enough, our class engaged in conversations about neighborhoods when we arrived at the Louisville Central Community Center (LCCC). This organization is a not-for-profit organization that provides programs and services to support children and families. Moderated by Katrina Whitlock from GE, we heard from a panel of professionals that represent several local organizations on the impacts and connections of how communities work and interact.
We ended day two with a truly special VIP bourbon experience. Bourbonism is a key term in Louisville and our group was blessed to arrive at the home of Rob Samuels for a bourbon tasting and conversation. Mr. Samuels is the Managing Director of the Maker's Mark Distillery and comes from a long generational line of distillers, taking over from his father Bill Samuels, Jr. Mr. Samuels shares with us about his family legacy and all the wonderful steps that go into making a fine glass of Makers Mark bourbon. This was a refreshing end to our day.
Our final day was spent learning about arts and tourism at the Kentucky Center for the Performing Arts. We were greeted by Louisville Mayor, Craig Greenberg, to discuss exciting developments happening in Louisville and how our class can get involved. Following Mayor Greenberg, we heard from our classmate, Kim Baker, who is the President and CEO of the Kentucky Center. She shared with us her journey in the arts and how the Kentucky Center educates and provides experiences to the entire Commonwealth. Our class then was given the opportunity to tour and stand on the very stage that so many Broadway shows, musicians, and famous speakers stood on.
We ended day three with two different panel discussions. The first centered on the "Arts/Culture Industry and Community Impact." We listened to conversations by representatives of Kentucky's Tourism, Arts & Heritage Cabinet, Muhammad Ali Center, KY Arts Council, Roots 101 African American Museum, and the Kentucky Historical Society. This was followed by an in-class panel of folks that work in the arts, entertainment, sports, and tourism sectors.
What is truly great about Leadership Kentucky's sessions—in my opinion—is the equal balance between hands-on unique experiences and thought-provoking conversations on deep topics. Louisville was the perfect balance between these two and we are grateful for all the sponsors, partners, speakers, and venues that made these three days so special.
We look forward to Paducah in just a few short weeks!