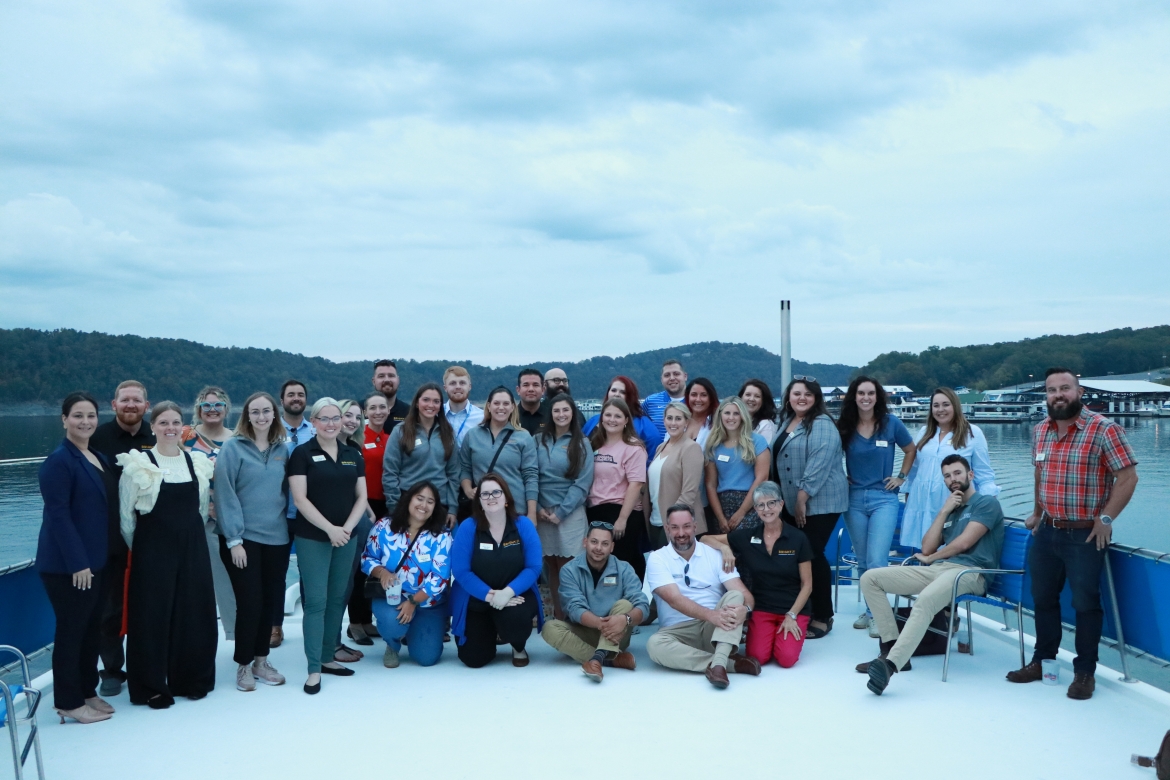 Written by: Alyssa Emmett, BRIGHT Kentucky Class of 2023
From attending the SOAR Summit to visiting landmarks in Somerset, this session featured advocating for the region and more. Tuesday began with a discussion of Perspectives on Leadership and Professionalism. The class was joined by Daniel Carmack, Dr. Sarah Adkins, Derek Lewis, Alison Pyles, Cody Gibson, and Ryan Osborne, who gave brilliant insight and feedback on what Leadership and Professionalism look like in various settings.
Next up for Tuesday was attending the SOAR Summit. Attending the Summit brought networking opportunities with like-minded individuals who have a passion for growth in the Appalachian Region. Participants heard from Congressman Hal Rogers and Governor Andy Beshear for updates on Kentucky and were able to witness the awarding of more than $26 million in Abandoned Mine Land Economic Revitalization (AMLER) program funds to support economic development projects for the region. Class members heard from many other influential speakers at summit and had the opportunity to learn in breakout sessions like Sabrina McWhorter and Kristin Norman's workshop on Social Media Marketing and Management. Many attended the SOAR Summit Reception and Ignite Entrepreneurship Mixer for networking with amazing people, building lasting relationships, and listening to influential panels.
Wednesday, after attending the morning portion of the SOAR Summit, the group traveled to Somerset Community College for an afternoon full of exceptional content beginning with Cindy Clouse, VP of Institutional Advancement at SCC. She provided an engaging segment and offered the opportunity to answer questions and speak with class members in a one-on-one setting. Afterwards, there was an extremely informative leadership panel on Advocating for Women. This panel was comprised of Tiffany Finley, Megan Damron, Amanda Bullock, Laura White Brown, and Sara Beth Gregory and moderated by Julie Harris, Communication Director of the City of Somerset/SPEDA. It was fantastic to connect Advocating for the Region to Advocating for Women, and the suggestions from this panel were monumental. Shortly after, we were able to sit in on another panel educating on Board Service. From membership, to responsibilities, to Robert's Rules, the panel was informative and educational for anyone whether they have never served on a board or have served on many. Wednesday evening, the class was treated to dinner at the Conley Bottom Resort and program about Transforming Leadership with Emily Conley (BRIGHT 2019), who shared riveting information and personal experiences that resonated with the entire class. Following the remarks, the group enjoyed a houseboat cruise to mix and mingle with BRIGHT classmates and BRIGHT Alumni. Networking proves, time and time again, to be such an important part of the BRIGHT program, allowing opportunities to share ideas with driven and passionate individuals that lead to lasting relationships and partnerships that will benefit Kentucky.
Thursday began in the City Council Chambers at the Energy Center in Somerset with a panel which spoke on Advocating for Somerset and Pulaski County. We heard from Mayor Alan Keck, Judge Executive Marshall Todd, President, and CEO of SPEDA Chris Girdler, and Executive Director of Somerset-Pulaski County Chamber of Commerce Bobby Clue. Then Lacy Johnson, a young entrepreneur, shared her journey of starting a small business, Lacy's Animal on Wheels. The adorableness of the presentation enhanced the ingenuity of this young lady and inspired everyone. Next on Thursday's agenda was a Walking Tour of Somerset. We began at the Makers Mills, which was a beautiful store highlighting local art in various mediums. The next stop was The Virginia where the class heard Somerset History, Advocating for Women, and their journeys. The panel consisted of Leslie Ikerd, Jessica Carlton, Julie Harris, and Michelle Allen, all of whom are greatly influential women in Somerset.
The walking tour ended at the Flashback Theater where we met from Sommer Schoch, Producing Artistic Director of the Flashback Theater Co., who shared the history of the theater and practiced improv exercises that engaged classmates and were fun! As each session has been, this one was certainly one for the books. The next session is Berea/Frankfort and participants are not ready for the November session to be our last. The experiences, connections built, and education received make these sessions life changing, create drive and energy, and make us hungry for more.