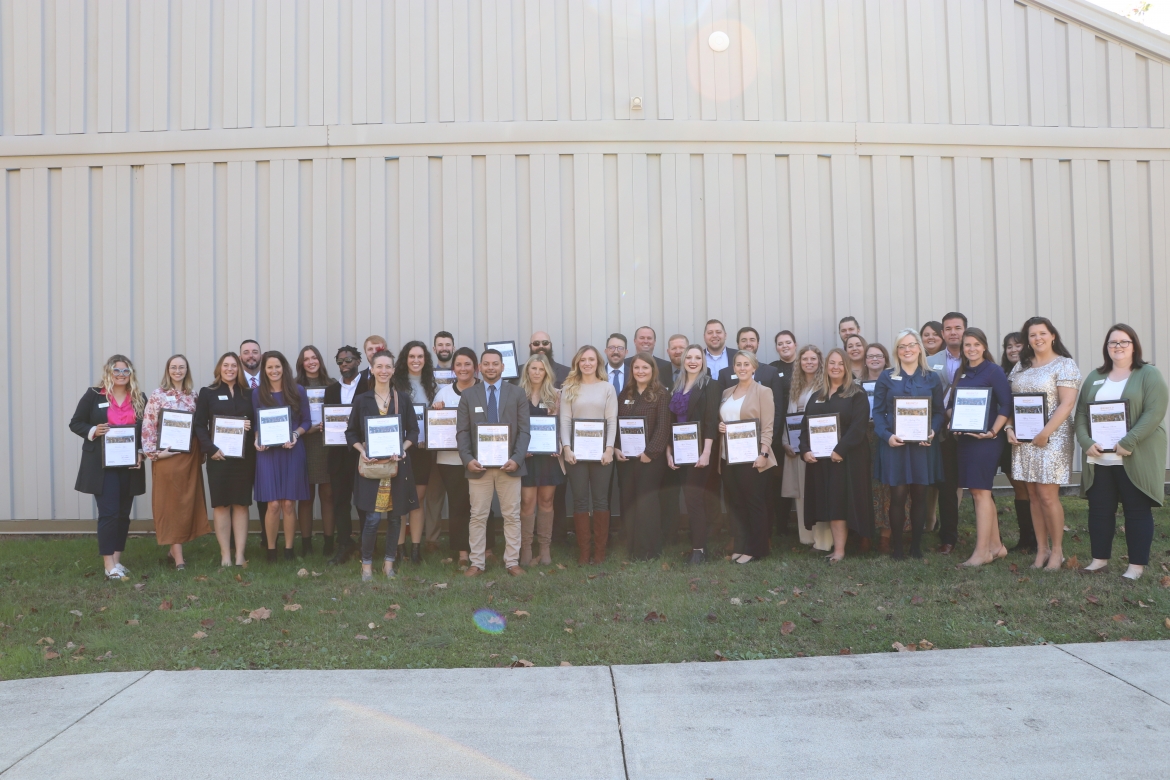 Leadership Kentucky proudly congratulates the BRIGHT Kentucky Class of 2023 on its November graduation held in Mt. Vernon. The Class of 2023 is the fifth cohort to participate and graduate from BRIGHT Kentucky.
BRIGHT Kentucky, which began in 2019, engages bright, entrepreneurial minds from various occupational sectors to offer non-partisan, ethical leadership training, expanded networks, and mentors designed especially for residents of the 54 Kentucky counties of the Appalachian Regional Commission (ARC). The program is made possible by a $500,000 Appalachian Regional Commission (ARC) grant and private funding from the Whitaker Foundation, AEP Foundation/Kentucky Power, and other generous donors.
BRIGHT Kentucky's training seminars and experiential learning focuses on understanding the local economic context and working to build a robust skill set in communication, collaboration, consensus building, visioning, and community engagement. This year's program ran from July through November and took participants across Eastern Kentucky: Pikeville in July, Pineville in August, Morehead and Ashland in September, Corbin and Somerset in October, and Frankfort and Berea in November.
This year's class included 39 participants from 25 different ARC counties representing a variety of public and private sectors. Leadership Kentucky congratulates the following members:
Daniel Armstrong - Greenup County - Farming Now!
Emily Aust - Greenup County - Pathways
Kimberly Back - Wolfe County - Whitaker Bank
Andrew Bledsoe - Montgomery County - Cabinet for Health and Family Services, Office of the Inspector General
Sarah Bowling - Whitley County - Bluegrass Care Navigators
Lyndsey Brown - Russell County - Lake Cumberland Area Development District
Rick Burke - Rowan County - St. Claire HealthCare
Layken Chapman - Johnson County - Appalachian Regional Healthcare (ARH)
Tiffany Coleman - Pike County - Southeast Kentucky Chamber of Commerce
Megan Cornett - Perry County - Housing Development Alliance
Donald Damron - Carter County - King's Daughters Medical Center
Lacey Dixon - Greenup County - City of Greenup
Morgyn Dixon - Pike County - University of Pikeville
Micah Drake - Estill County - Carhartt
Alyssa Emmett - Laurel County - Entrepreneur
Cierra Gibson - Laurel County - Cumberland River Behavioral Health
Crystal Hall - Knott County - Alice Lloyd College
Erik Hall - Clark County - Kentucky American Water Company
Jordan Hood - Knox County - RRJ Solutions
Shelby Jones - Pulaski County - Cumberland Valley Area Development District
Lauren Kirby - Rockcastle County - Christian Appalachian Project, INC.
Leslie Lester - Wayne County - City of Monticello
Isabella Martin - Pulaski County - Boys & Girls Club of Somerset
Ben Mosley - Knott County - Sitel group
Ryan Newsome - Magoffin County - American Electric Power (Kentucky Power)
Anthony Ortega - Laurel County - Windstream Telecommunications
Joe Palumbo - Perry County - American Red Cross
Jordan Pierce - Casey County - Tarter Farm and Ranch
Emily Shafer - Pulaski County - Somerset Community College
Tyler Stapp - Russell County - Stapp's Enterprises
Hunter Stewart - Bath County - CG Bank
Shanna Storm - Whitley County - CHI Saint Joseph Health
Lynda Mae Taylor - Montgomery County - Gateway Children's Services
Stacie Taylor - Pike County - Pikeville Medical Center
Madeline Tipton - Boyd County - The Tipton Creative, LLC
Gary Vinson - Perry County - Hazard Community and Technical College
Sydney Whitaker, DSW,LCSW,LCADC - Knott County - Mountain Comprehensive Health Corporation
Kirsten Wilburn - Laurel County - Entrepreneur
Jessy Workman - Floyd County - Wayland Historical Society
Applications for the BRIGHT Kentucky Class of 2024 will be available in the spring at leadershipky.org.
###
About Leadership Kentucky
Leadership Kentucky, created in 1984 as a non-profit educational organization, brings together a diverse group of people who possess a broad variety of leadership abilities, career accomplishments, and volunteer activities to gain insight into complex issues facing the state. By fostering understanding of how the state's issues are interconnected, and by forging new relationships among community and regional leaders, Leadership Kentucky graduates bring a fresh and informed perspective to their communities and companies, serving as important participants in the unified effort to shape Kentucky's future. The Leadership Kentucky Foundation offers four unique programs: Leadership Kentucky, ELEVATE Kentucky (for young professionals), BRIGHT Kentucky (for next generation Eastern Kentucky leaders) and New Executives to Kentucky (for senior level executives who have lived in the state for less than two years). For more information, please visit leadershipky.org or email lky@leadershipky.org.