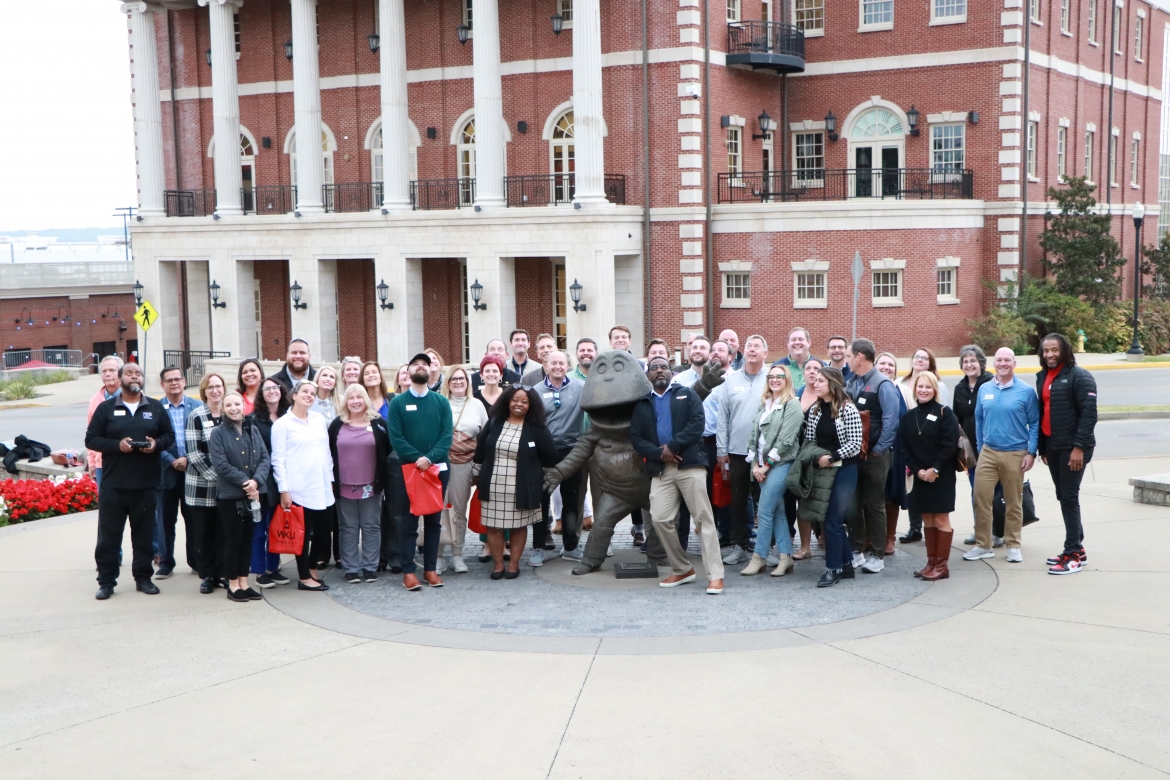 Written by: Janet Ratliff, Ed.D., Elmer and Donna Smith Endowed Chair in Entrepreneurship, Associate Professor of Management/Entrepreneurship, School of Business Administration, Elmer R. Smith College of Business and Technology, Morehead State University, Leadership Kentucky Class of 2023
On Day 1, the Leadership Kentucky Class of 2023 began its day bright and early, meeting in the hotel lobby and boarding the bus for a day of exciting activities at Fort Campbell, Kentucky. This visit was packed full of experiences for us to further respect the work of those in the military. We had the opportunity to visit with the 101st Airborne Division (Air Assault) and to test our bravery by either participating in rappelling or serving as ground support for those who did rappel. Either way, we all left with a better understanding of the true skill and commitment of our military. Our respect and appreciation for the sacrifices our men and women in the military make on a daily basis was reinforced by the day's visit. The Allison Aquatics Center provided us with the realities and challenges of rescues in or near water. The type of specialized training provided at Fort Campbell is something all Kentuckians can be proud of. The Command briefing really gave us some insight into just how important Fort Campbell is to our military efforts throughout the world.
On Day 2, the Class of 2023 focused attention on education. We first visited SKYCTC (Southcentral Kentucky Community and Technical College). This was a beautiful campus and we learned all about the history of the junior colleges/community college system. The important work being done to serve the students of this community and the region was evident to us. This welcome was followed by a true account of the January 23, 2018, school shooting at Marshall County High School in Benton, KY. The Superintendent at the time, Trent Lovett, shared with us the realities of that day that he will never forget and provided us with a reminder of just how difficult true Leadership really is when it is tested. His presentation was also a reminder of the resiliency of people to overcome traumatic events in their lives.
Later in the morning, students and administrators provided information about the GEO International High School (this is the only four-year high school for international and refugee students of its kind in Kentucky). This was an amazing experience for us to see the multicultural differences that exist within this high school and this community as a whole. Not only did we realize this through this presentation, but we were reminded as we learned more about the International Center of Kentucky. This Center has assisted in resettling more than 10,000 refugees, since its founding in 1981. Bowling Green has more cultural diversity than any other county in Kentucky. Its school district serves the most migrant students in Kentucky (120 languages and 19 countries being represented).
During lunch and shortly thereafter, Western Kentucky University (WKU) administrators and staff shared information with us about teacher education and educational opportunities and challenges overall. Additionally, another panel of administrators and staff from WKU provided insight into educational programing and support made available to students, including those with special needs and special circumstances, high risk, veterans, and those from other countries. It is clear that WKU cares greatly about student success and wants to ensure that all students receive the support they need. This session was followed by our own class panel discussion of what was currently going on in education and higher education specifically. This included a variety of topics, not limited to the following: a description of the Council on Post Secondary Education and its efforts in the last few years to address student success, key accomplishments of higher education in Kentucky, the cost of higher education and the financial assistance available to students pursuing higher education, external threats to higher education, the 2025 population cliff, the ways universities are addressing the need for career competencies for employment, and mental health challenges of students today. Additionally, information was provided on how the community and technical colleges are addressing nonacademic barriers for low-income students, and the importance and offerings of extension programs throughout Kentucky.
After the education panel discussion, the class group discussions were held where the entire Leadership Kentucky Class of 2023 was divided into five groups. Each of the five groups detailed what their group had decided to focus their attention on to further the work of Leadership Kentucky:
Economic Development – This group decided to make a list of the individuals and organizations represented by all alumni of Leadership Kentucky over time. Through this inclusive and detailed resource, the Leadership Kentucky network could be better leveraged and utilized in the future as needed.
Health – This group decided to host a blood drive during this upcoming holiday season and to encourage all alumni of Leadership Kentucky to participate and challenge their organizations to participate in this much needed life saving effort. This is important because there is always a shortage of blood, but especially during the holidays.
Education – This group decided to challenge the current Leadership Kentucky Class to use their own organizations and personal connections and networks and social media presence to help get the word out about the Work Ready Kentucky Scholarships.
Golf Scramble – This group decided to host a golf scramble (golf course provided by Eastern Kentucky University) to raise money for scholarships to be used by Leadership Kentucky in upcoming classes.
Diversity and Inclusion – This group decided to focus its efforts on utilizing individuals and organizations to assist in making intentional efforts to recruit diverse participants for future Leadership Kentucky classes.
Finally, the day ended with an unforgettable trip to visit LifeWorks (a living and learning transition program for young adults on the autism spectrum). This program is a two-year certificate program. It is one of only a few in the country. We all enjoyed dinner together at Hickory and Oak.
On Day 3, we visited Alvaton Elementary. We had the pleasure of meeting students, teachers, and administrators of this "Leader in Me" School. This school adopted an evidence-based model for its school district that focuses on leadership and life skills that accelerate high academic achievement. We also had the opportunity to hear about the $1.4 million commitment that the Bowling Green Chamber of Commerce made to this program. The Chamber saw the potential for the future being worth the investment. We all had a wonderful experience seeing for ourselves what learning is at its absolute best. I do not think any of us remember school being this engaging. The positivity in the school rubbed off on every single one of us and we all walked away from this visit with optimism for the future of our state and our nation. These young people are going to do amazing things.