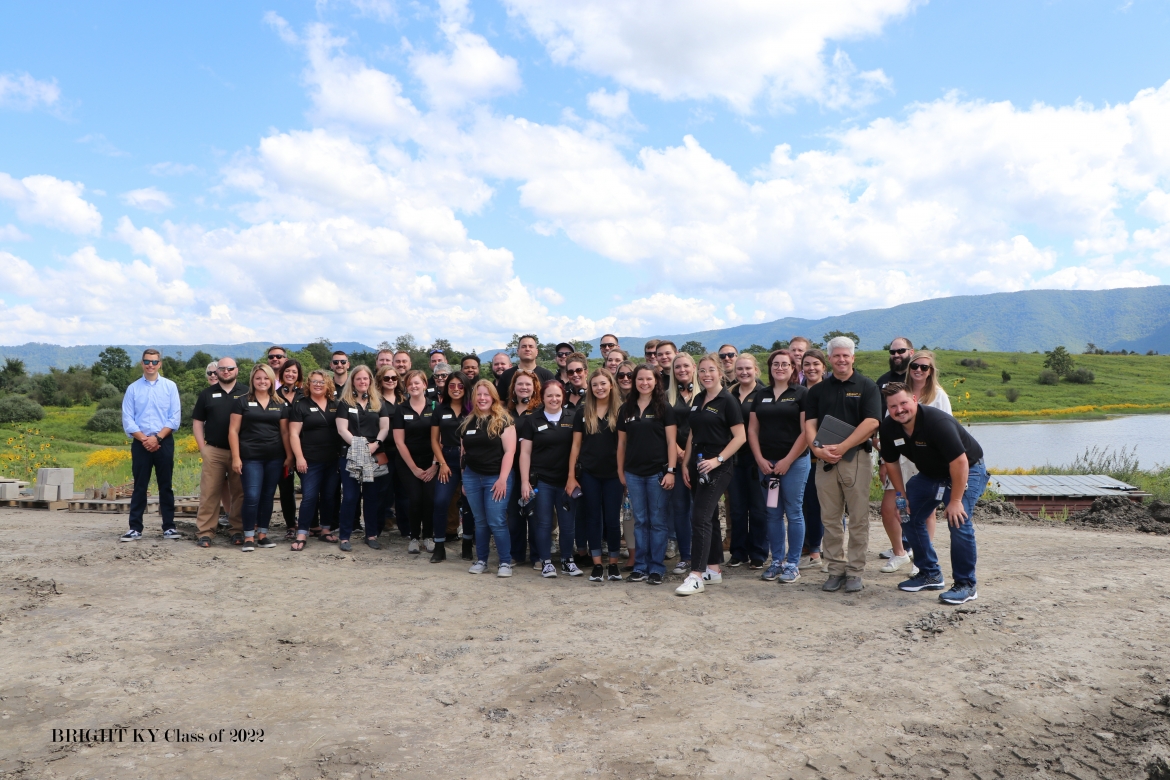 Leadership Kentucky is now accepting applications for the BRIGHT Kentucky Class of 2023. Since its launch in 2019, nearly 170 young professionals have graduated from the program that equips them to make a lasting impact on their communities and organizations.
BRIGHT Kentucky is designed to develop the next generation of leaders, ages 21 to 40, in the Appalachian region of Kentucky, to help them innovate, collaborate, and advance community and economic development. BRIGHT Kentucky engages bright, entrepreneurial minds from all backgrounds to offer non-partisan, ethical leadership training, expanded networks, and mentors designed especially for residents of the 54 Kentucky counties of the Appalachian Regional Commission (ARC). BRIGHT Kentucky is funded through a grant from the ARC and private funding from the Whitaker Foundation, Kentucky Power/AEP Foundation, and others.
"Leadership Kentucky is pleased to have the opportunity to welcome the next BRIGHT Kentucky class this summer, developing the next generation of leaders for Kentucky's Appalachian Region," said Janice Way, President of Leadership Kentucky. "BRIGHT Kentucky works in collaboration with local leadership programs, chambers of commerce, economic development organizations, colleges/universities, and Shaping Our Appalachian Region (SOAR) to recruit candidates, create programming, and develop meaningful discussions. This program is not competitive with any existing programs, so BRIGHT is a win for all in the region."
BRIGHT Kentucky Class of 2023 will gather in July in the Pikeville region and will travel to Pineville/Middlesboro in August, Ashland/Morehead in September, Somerset/Corbin in October, and Berea/Frankfort in November. Five months of three-day sessions throughout the Appalachian Region provide an opportunity for aspiring leaders to connect with peers, develop leadership skills, and gain inspiration to create positive impact in their communities. Participants are selected to ensure representation across geographic, ethnic, and demographic sectors.
If you or someone you know is interested in being a member of the BRIGHT Kentucky Class of 2023, the application form is available online at leadershipky.org. All BRIGHT Kentucky Class of 2023 applications will be due mid-May.
###
About Leadership Kentucky:
Leadership Kentucky, created in 1984 as a non-profit educational organization, brings together a select group of people who possess a broad variety of leadership abilities, career accomplishments, and volunteer activities to gain insight into complex issues facing the state. By fostering understanding of how the state's issues are interconnected, and by forging new relationships among community and regional leaders, Leadership Kentucky graduates bring a fresh and informed perspective to their communities and companies, serving as important participants in the unified effort to shape Kentucky's future. The Leadership Kentucky Foundation offers four unique programs: Leadership Kentucky, ELEVATE Kentucky (for young professionals), BRIGHT Kentucky (for Eastern Kentuckians), and New Executives to Kentucky (for senior-level executives who have lived in the state for less than two years). For more information, please visit leadershipky.org or email lky@leadershipky.org.