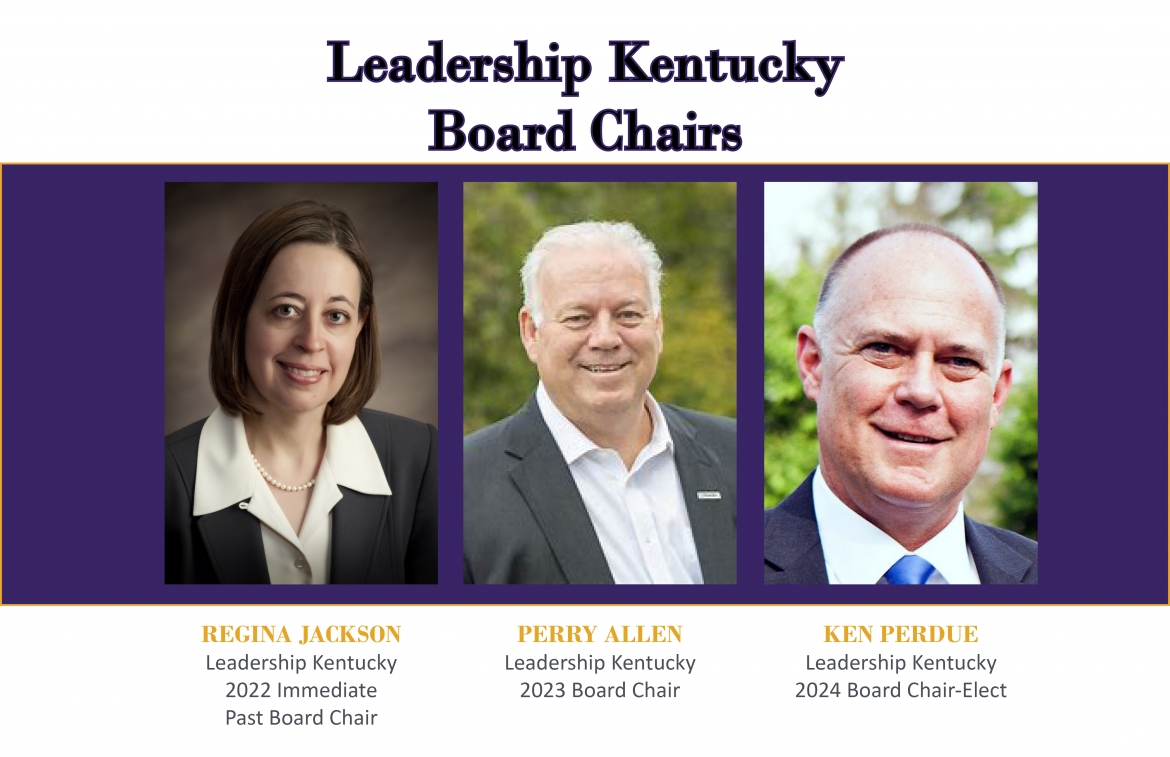 Leadership Kentucky is proud to announce Perry Allen as Chair of the 2023 Board of Directors. Alongside the Board of Directors, Allen will oversee one of the oldest and most esteemed statewide leadership development programs in the United States.
Allen is an alum of the Leadership Kentucky Class of 2014. He retired from U.S. Bank where he was Regional President, Central Northern Eastern KY. A lifetime resident of Kentucky, Perry currently resides in Lexington with his wife.
"I am truly honored to serve as Leadership Kentucky's 2023 Chair", said Allen. "Leadership Kentucky provides a path for each participant to develop and evolve as leaders which is necessary for us to continue to be effective. As an alum of Leadership Kentucky, I have experienced the valuable opportunities that Leadership Kentucky provides and look forward to working with the Board of Directors and staff to advance leaders throughout the Commonwealth."
Leadership Kentucky elected the following officers of the 2023 Executive Committee and added new members to the Board of Directors:
Ken Perdue (Russellville) was named 2024 Board Chair-Elect
Chrisandrea Turner (Lexington) was named Secretary of the Board
Dan Bork (Nicholasville) was named Treasurer
Aaron Crum (Pikeville) has joined the Board
Roy Lowdenback (Paducah) has joined the Board
Kevin Smith (Clermont) has joined the Board
Debbie Zuerner (Owensboro) has joined the Board
The 2023 Leadership Kentucky Executive Committee and full Board of Directors list is below:
2023 Executive Committee
2023 Board Chair—Perry Allen (Retired, U.S. Bank)
2024 Board Chair-Elect— Ken Perdue (Retired, Logan Aluminum, Inc.)
Immediate Past Chair— Regina A. Jackson (Partner, English Lucas Priest & Owsley, LLP)
Secretary— Chrisandrea Turner (Partner, Stites & Harbison, PLLC)
Treasurer— Dan Bork (Retired, Kentucky Commissioner of Revenue)
BRIGHT Liaison/Committee Member— Elmer K. Whitaker (CEO, Whitaker Bank, Inc.)
Leslie A. Fugate (Vice President, Director of State and Local Public Affairs, Brown-Forman)
Trey Grayson (Partner, Frost Brown Todd LLP)
Melissa Knight (President, Farmers National Bank)
Ron Wilson (Associate Vice President, Division of Philanthropy & Alumni Engagement, Western Kentucky University)
Gina S. Winchester (Deputy Judge Executive, Calloway County)
Committee Member-Ex-Officio: Barbara Dickens (Senior Operations Counsel, Atria Senior Living Group, Inc.)
Committee Member-Ex-Officio: Mary Michael Corbett (Retired, Baptist Health Foundation)
Committee Member-Ex-Officio: Teresa Trimble Hail (President, D.C. Trimble, Inc.)
2023 Board of Directors
Craig J. Carlson (Middle Market Banking Leader, Ohio, Kentucky and Indiana, Truist Bank)
Daniel Carmack (Realtor, Sallie Davidson Realtors)
Carolle Jones Clay (President, Republic Bank Foundation, Senior Vice President Managing Director- Community Relations, Republic Bank & Trust)
Aaron Crum (Assistant CEO, Chief Medical Officer, Pikeville Medical Center)
Gary Gerdemann (Co-Founder, Partner, RunSwitch Public Relations)
Alan Keck (Mayor, City of Somerset)
Roy Lowdenback (System Vice President, Philanthropy, Baptist Health)
Eileen Saunders (Vice President, Customer Services, LG&E and KU)
Charles 'Chuck' Session (Retired, Duke Energy)
Leslie Buddeke Smart, CFRE
Kevin Smith (Vice President of Kentucky Beam Bourbon Affairs of Beam Suntory)
Burton J. Webb, Ph.D. (President, University of Pikeville)
Cindy Wiseman (VP External Affairs & Customer Service, AEP/Kentucky Power)
Kelley Workman (President, Planters Bank)
Debbie Zuerner (Director of Community Engagement, Owensboro Health)
###
About Leadership Kentucky
Leadership Kentucky, created in 1984 as a non-profit educational organization, brings together a select group of people who possess a broad variety of leadership abilities, career accomplishments, and volunteer activities to gain insight into complex issues facing the state. By fostering understanding of how the state's issues are interconnected, and by forging new relationships among community and regional leaders, Leadership Kentucky graduates bring a fresh and informed perspective to their communities and companies, serving as important participants in the unified effort to shape Kentucky's future. The Leadership Kentucky Foundation offers four unique programs: Leadership Kentucky, ELEVATE Kentucky (for young professionals), BRIGHT Kentucky (for Eastern Kentuckians), and New Executives to Kentucky (for senior-level executives who have lived in the state for less than two years). For more information, please visit leadershipky.org or email lky@leadershipky.org.