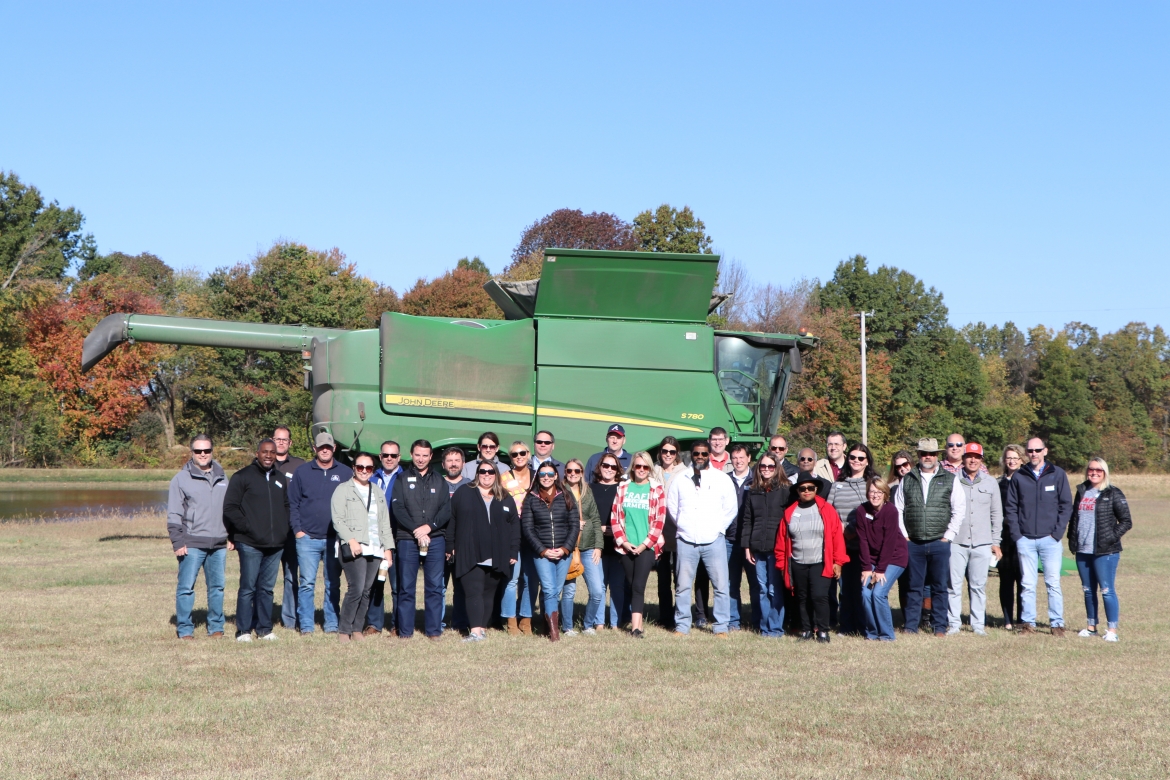 By: Tracy Naylor, Leadership Kentucky Class of 2022
My mind is a bit like a "Boggle" game as I try to do as those who have recapped sessions before me have done and that is summarize the session with one word. Every time I think I have the word picked out, a recollection of another aspect of the week shakes up my box of cubed letters, my mind bounces around a bit, things fall into place, and then a new word becomes clearly evident. I think "yes, that's it!" only to have my box of letters shaken again by the impact of a different experience, a memory, something someone said, a feeling. There were many this session. Who am I kidding? There are many every session, but this one struck particularly deep for some reason.
Upon first glance at the agenda, I think I speak for all of us when I recognized the time at the Kentucky State Penitentiary would be the heavy spot in our three days. I was grateful for what I perceived to be the lighthearted bookends of the proverbial "Dam Tour" hosted by TVA and the US Army Corps of Engineers balanced by the thrill of a tractor ride on the farm. The extra cushion of a relaxed and more social than usual Wednesday evening and post-prison bourbon/agriculture discussion on the bus was particularly comforting.
Derrick Miller, Leadership Kentucky Class of 2021 alum and TVA Customer Service Manager, Josh Tubbs, Leadership Kentucky Class of 2011 alum and TVA Community and Government Affairs Specialist, TVA Kentucky Dam Plant Manager KT Duffy and his trusty sidekicks Lance Byerly and Josh Rhea (we discovered we might be related, my mother was a Rhea), both TVA hydroelectric technicians, were our welcoming team. Together, they opened our eyes wide to the vast history of the TVA and the vital impact it has had not just on our region, but the national and global scope as well. I wonder if FDR really knew what he was creating when he penned the TVA into existence in 1933.
The importance of river navigation and the transportation of necessary goods cannot be understated. The Mississippi River, into which the Tennessee, Ohio, and Cumberland Rivers all ultimately flow, accounts for 92% of US agricultural exports and 78% of global exports of soybeans and feed grains. At present, the Mississippi is approaching its lowest levels in 30 years, creating traffic jams, raising shipping prices, and threatening jobs that depend on the critical trade route. During the Great Plans drought of 2012, the US economy suffered $35 billion in losses. While backed up well below the point of Kentucky Dam, the TVA dam system continues to keep a nine-foot-wide lane that is required to navigate through the region to the Mississippi River.
On our tour, we were able to travel deep into the belly of the dam. We saw the inner workings of the five gates that comprise the dam and control the water levels of the Tennessee River. We learned if all five of those gates were fully opened, more water would flow per minute than flows over Niagara Falls. Little did we know we were the first group to go below the surface of the dam since September 11, 2001. Let that sink in! Little did we know that the TVA fends off 20 to 30 THOUSAND cyberattacks from those who are not friends of the United States of America. Let that sink in! What an incredible evolution the face of terrorism has experienced in such a short amount of time.
Speaking of time, US Army Corps of Engineers Lockmaster Wayne Chapman and his engineer colleague, whose name I failed to catch, educated us on just how river navigation is managed when five gates are holding back water equivalent to Niagara Falls. While no excuse for not getting that young man's name, I had just discovered that Lockmaster Chapman and I went to the same church when were in middle and high school, our parents attended Sunday School together, played cards, ate out together from time to time, and when he went off to join the Coast Guard after high school, my heart was just a little bit broken. I digress. Together, they told us all about the "new" lock that has been under construction for 25 years and will likely remain under construction for another five to ten years. But when it is complete, it will be long enough for a full fifteen-barge tow to pass through saving nearly two hours per two. I wonder how many hours and dollars could have been saved over the past 25 years if the project had been completed in the amount of time originally planned. Ahhh, the joys of federal dollars. We all donned fashionable white hard hats and neon yellow safety vests to brave the rain and walked across the lock gate, what felt like thousands of feet above the water, some with shakier legs than others, but we experienced it, nonetheless.
To say we learned so much is an understatement. Many thanks to our own Maegan Mansfield for making this experience possible. Our hard hats off to the men and women at TVA and the US Army Corps of Engineers who are keeping a major artery pumping so the heartbeat of this great country beats safe and strong each and every day! And an extra wink from me to Lockmaster Chapman and Josh Rhea, my long-lost cousin twice removed.
Wednesday evening and straight on into Thursday morning, if we didn't bleed Murray Blue and Gold before, we surely did after. We had a wonderful dinner and tested our Murray knowledge with our friends from local government and then had breakfast the next morning with approximately 350 of our closest new friends at the Murray Chamber of Commerce Ag Day Breakfast at the Murray State Arboretum. What a treat to see the beautiful grounds, be entertained with stories of Mrs. Mable Pullen, and honor those who are the backbone of the Murray/Calloway County agriculture community. As one whose livelihood depends on the generosity and passionate hearts of donors like Mrs. Pullen and the many sponsors and supporters of the college, it was truly a treat for me to be part of such a celebration. Well done Racers and well-done Courtney Hixson for your work to make our Murray State University experience so nice!
And then came the prison. I am not short on words as it relates to this portion of our time together, but as Warden Scott Jordan said when he first greeted us, it is a complex topic, one that would take about two months to fully digest and absorb. I do not believe he is wrong. It seems very possible that I could write a dissertation on the many aspects of our journey and the impact the day had on me and my classmates. My chapters would certainly include: the cost of incarceration; the impact of staffing shortages; my own knowledge of overcrowding in my county jail due to state prisoners balanced with the fact that only about ½ the state prison beds are full; the feelings I experienced as I sat just feet from two convicted murderers and a seemingly repentant recovering addict convicted of manslaughter and assault; the surprising number of female corrections officers and staff balanced by the fact there is a female inmate on death row in Kentucky and reading about her story; the question of how long is long enough as it relates to time served vs. the aforementioned cost to incarcerate and the argument as to whether or not the cost matters; the cleanliness of facility; the secondary trauma that must be experienced there on a daily basis; the list goes on and on. It is certainly an experience I suspect we will all be digesting for a long, long while.
For me personally, I would be lying if I said going in that I was not slightly apprehensive. People had tried to prepare me with advice like "don't make eye contact," "They will yell at you, they may say lewd things. Just pretend you don't hear it." "Stay in the middle of your group." I did not know if I would feel sorry for the inmates or afraid or safe or just plain sad. No matter what thought or preparation I had in advance, nothing had readied me for the flood of emotion I felt as I sat down on the front row of the execution viewing room and looked up through the one-way glass to see the original electric chair and the gurney where lethal injections are administered. It honestly took my breath away. When the deputy warden explained we were seated in the media viewing room and that there was an inmate family and friends viewing room along with a separate victim's family and friends viewing room, both also equipped with one-way glass, my tears started to escape. He described the visitation room for what he referred to as the condemned and his family to have time together before his sentence is carried out and my tears flowed. I visualized the family of a victim watching life escape from another human who had taken their beloved human and the tears flowed. He described the hype and the frenzy that surrounded the last near execution as people drove around the prison boundaries trying to see something. He described the monthly execution simulation exercises in which he and the "death squad" engage. He described the national, state, regional, and local news attention that is focused on the small lake town of Eddyville when an execution is eminent. The tears flowed. I was and remain overwhelmed by the ripple effect on literally hundreds and hundreds of lives that stems from one person making one wrong choice, one very bad decision, taking a devastating action. What action rippled outward leading him or her to make their own terrible choice? The weight of that pain and suffering, the fact that every single one of the individuals in those viewing areas could never possibly be the same, the gravity of those simulation exercises on the staff, and the effect on their families and friends – it was and remains quite simply enormous. I told a friend that I knew the visit would affect me. He wisely asked if that wasn't the intended purpose. Perhaps he was right. It certainly is not something I will soon forget.
After a bit of a quiet yet murmur-filled bus ride headed back to Murray, our classmates Rachel, Amanda, one of the two Scotts and Kyle did their very best to lighten our collective minds by sharing information about their respective bourbons and providing a class panel on the bourbon and agriculture industries. Healthy as a coping mechanism it is not, but I for one was happy to wash away the sting of the day with a few sips of liquid gold. Stepping off the bus to be greeted again by Racer One and the amazing Murray State University Equine team on the field of Roy Stewart Stadium was sweetly thrilling. The Goldenrod Café did not disappoint us for dinner. It was a long and full day, but one for which I believe we were all thankful in the end. Thank you again to Courtney for the Murray love!
Finally, a crisp and sunny Friday morning led us to the home of Jed and Krissy Clark and Clark Family Farms, a 5700-acre family-owned farm in Graves County that Jed and his father operate. Again, our minds stretched as Jed shared the many hats he wears. We learned about seed development and the incredible technological capacity of modern-day farming equipment. We got to sit in the seat of his practically self-driving combine, and I suspect we each said a prayer for the current drought conditions to end after he told us of the near disaster he had just experienced when the combine recently caught fire. We learned about Black Fire Tobacco, the H-1b1 migrant worker program, and were able to see and smell the billowing smoke from the simmering embers of a barn full of hanging tobacco being smoked at a steady 160 degrees.
The whole session came full circle when Jed described how his location, just 45 minutes from the Mississippi River, is such a tremendous benefit to the operations of his farm. He also shared that it is selling his commodities in that way is in jeopardy because river navigation due to the drought is posing transportation challenges. This is where I refer you, the reader, back to the introductory recap about the TVA and its impact on river navigation. If it were not for the dedicated team keeping water flowing ultimately to the Mississippi, there would be no shipment of Jed's commodities or any other goods using the navigable rivers. This great country in which we live is a tightly woven tapestry of interdependence, impressive talent, capacity, innovation, and spirit. Thank you to Kyle Kelly for ensuring a lovely morning on the farm.
Finally, before our group processing and session wrap-up, we relived the nightmare of December 10, 2021, through the lens of Mayfield Mayor Kathy Stewart O'Nan, Judge Executive Jesse Perry, and Jeff Steen, Director, Calloway County OEM. They shared their experiences in the moments after a catastrophic EF-4 tornado leveled much of their city along with much of western Kentucky. They spoke of their immediate and existing needs, planning, roles, and lessons learned. They described the support they felt in the days and weeks after, and the future of their town as the repairs and rebuilding continues, nearly one year later.
We are proud to be Kentuckians, and each and every one of these incredible people we met this week certainly made us remember why. They are the foundation of this great Commonwealth. I can only hope to be a fraction of the leader someday they are each and every day. The opportunity Leadership Kentucky provides just cannot be described, but I can sure tell you I am abundantly grateful to be taking part! Until November, friends!