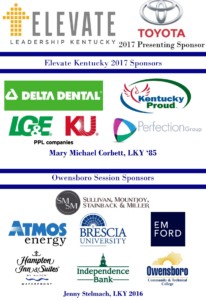 The Elevate Kentucky class held its first session of 2017 in Owensboro March 2-3. The session theme was "Know Your State," and we hope or candidates left with more knowledge about the state of Kentucky and of their own personal state and leadership styles.
Thanks so much to our generous sponsors who help to make the Elevate Kentucky program possible.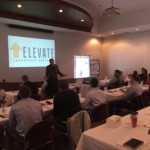 Our session day began with presentations from Father Larry Hostetter, President of Brescia University, and Dr. Mason Horrell, Professor of History at Kentucky Wesleyan College (both Owensboro institutions) on the importance of ethics in business and in life, and on the history of Kentucky.
The Elevate class then participated in a workshop on "finding your passion" with Lisa Williams, Executive and Leadership Coach & Organizational Consultant. The group also toured the Owensboro RiverPort Authority and learned about the importance of river commerce to Kentucky's economy. The class had dinner at the beautiful and historic Miller House and heard from Owensboro Chamber President and CEO Candance Castlen Brake.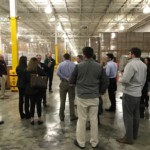 Day two began with a Predictive Index workshop from the Oliver Group in which the group was able to delve deeper into their personal leadership styles. The group ended its first session with a luncheon with the Leadership Kentucky Board of Directors.
The Elevate Class will meet next in Campton for the "Lead Your State" session. Check back then for more updates on this outstanding group of young Kentucky leaders.