Posted on: October 5, 2015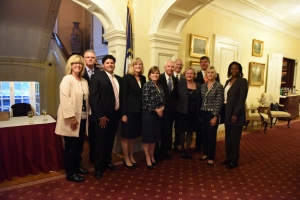 On September 30th, Leadership Kentucky welcomed a group of executives that are relatively new to Kentucky to our second New Executives Program at the Kentucky State Capitol. Their day started off with lunch for the executives and their guests or spouses. They all went on a tour of historic Buffalo Trace Distillery in downtown Frankfort to sample some of our Commonwealth's most famous commodity.
The afternoon had separate events. While the guests and spouses toured beautiful Spendthrift Farms and the Kentucky History Center, the new executives heard from a variety of panels on the business environment in Kentucky, the challenges we face, and an overview of the politics of Kentucky.
The group then reconvened for a tour of the Kentucky State Capitol and a dinner reception at the Governor's Mansion. The reception featured a bourbon tasting and music by Frankfort Mayor Bill May. At dinner, Governor Beshear welcomed the new executives and their guests to the Commonwealth and spoke about the promise of Kentucky.
Leadership Kentucky awarded Governor Beshear with a Life Time Leadership Award in recognition of his lifetime of public service to the people of Kentucky.
Thanks to our partners
US BANK, LG&E/KU and ANTHEM-BLUE CROSS/BLUE SHIELD
for making this event possible for the New Executives.