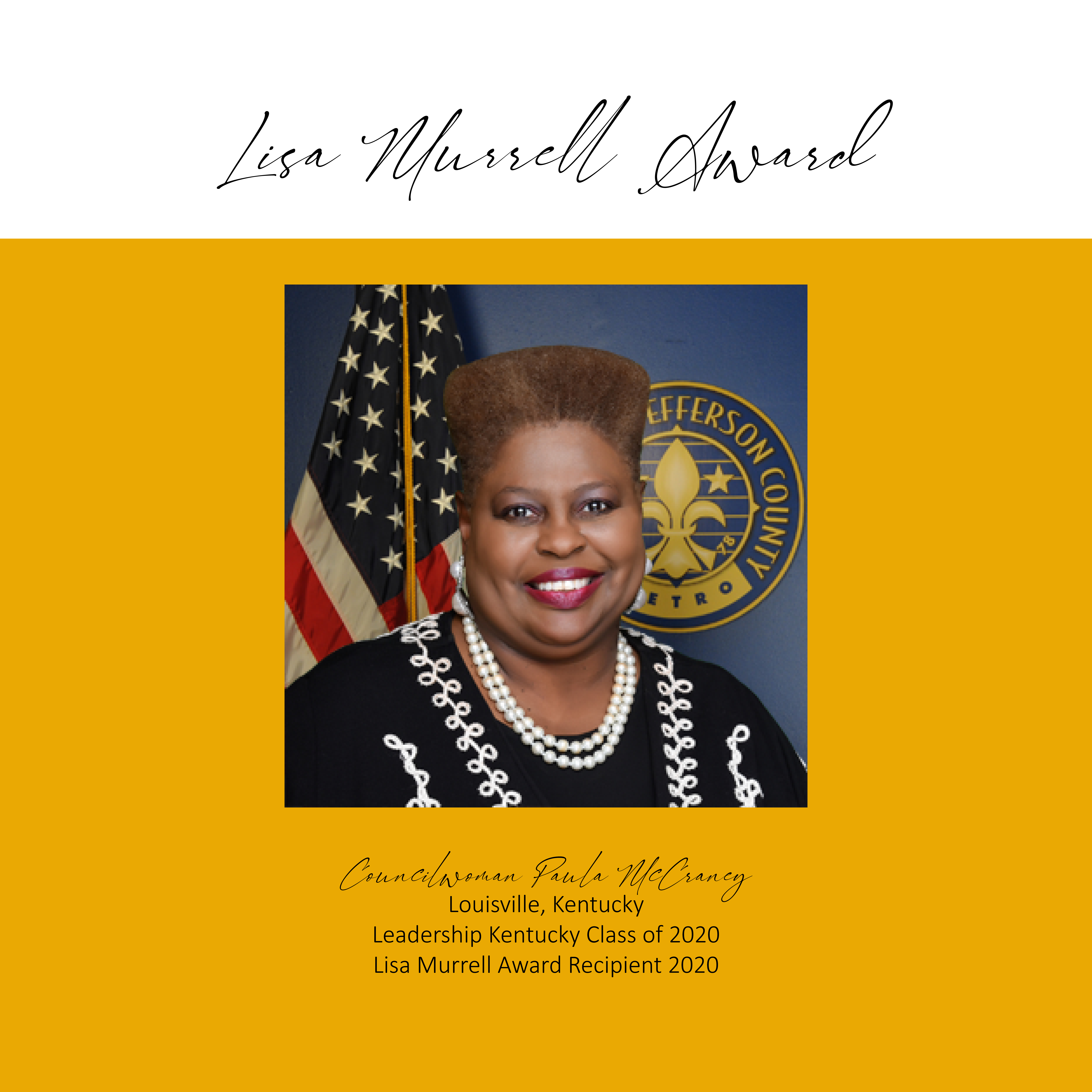 Frankfort, Ky. (December 21, 2020) – Leadership Kentucky, one of the oldest and most prestigious statewide leadership development programs in the United States, announced Paula McCraney, as the recipient of the 2020 Lisa Murrell Award. McCraney serves on Louisville's Metro Council for District 7, where she proudly represents 25 suburban cities and six neighborhoods. She serves as a member of the Metro Council's Budget, Labor & Economic Development, and Public Works Committee.
"It truly is an honor to receive the esteemed Lisa Murrell Award from Leadership Kentucky," said Paula McCraney. "Lisa Murrell exemplified what it meant to be a true servant leader and to be mentioned in the same sentence as someone like her is quite an accomplishment."
The Lisa Murrell Award is given annually in honor and loving memory of Lisa Murrell, a member the Leadership Kentucky Class of 2008, to the person in the current class who most epitomizes the spirit of Lisa: Courage, Compassion, Dedication, and Selflessness. McCraney's classmates described her as a "passionate and tireless worker" with an "attitude of service" who "embodies the spirit of the Commonwealth."
"Despite the challenges of 2020, Paula displayed to her classmates and the Leadership Kentucky team what it means to be a resilient and compassionate leader. Paula shared important perspectives on key issues in a cordial, polite, and positive way," said Janice Way, president of Leadership Kentucky. "It is an honor to present this distinguished award to her."
In addition to that award, the Lisa Murrell Scholarship Fund was founded to help assist future Leadership Kentucky participants. Applicants may receive scholarship forms upon request and may be eligible to apply after the participant is notified of their acceptance into the Leadership Kentucky Program.
###
About Leadership Kentucky
Leadership Kentucky, created in 1984 as a non-profit educational organization, brings together a select group of people who possess a broad variety of leadership abilities, career accomplishments, and volunteer activities to gain insight into complex issues facing the state. Our goal is to prepare our participants to take an active role in advancing the state for the common good. By fostering an understanding of how the state's issues are interconnected, and by forging new relationships among community and regional leaders, Leadership Kentucky graduates bring a fresh and informed perspective to their communities and companies, serving as important participants in the unified effort to shape Kentucky's future.