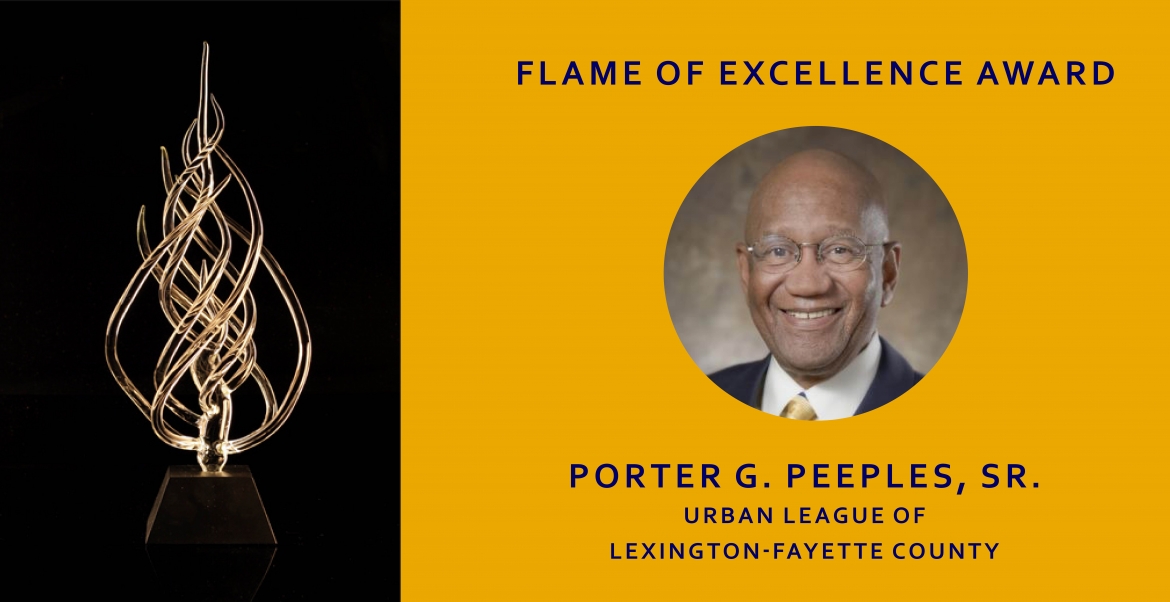 March 7, 2022— (Lexington, Ky.) — Leadership Kentucky, one of the first and most prestigious statewide leadership development programs in the United States, held its 20th Annual Alumni Luncheon in Lexington at Central Bank Center on March 2, 2022 where the Flame of Excellence Award was presented to Porter G. Peeples, Sr.
The Flame of Excellence Award honors an outstanding Kentuckian who bravely lights the way for others.
Porter G. Peeples, Sr. is a native of Lynch, Kentucky where he attended high school and graduated in 1964. He attended Southeast Community College in Cumberland, Kentucky where he earned an Associate Degree in Education in 1966. He then enrolled at the University of Kentucky where he graduated with a Bachelor of Arts Degree in Elementary and Special Education in 1968. Peeples has also completed graduate work at Eastern Kentucky University and received an honorary Doctorate from Lindsey Wilson College. Before becoming Education Director of the Urban League of Lexington-Fayette County, Peeples was a teacher in Fayette County.
Peeples became CEO of the Urban League of Lexington-Fayette County in 1972. Under his leadership, the Urban League of Lexington-Fayette County has made its mark by expanding to provide job training, housing, computer, technology, and educational programs. The Urban League of Lexington-Fayette County has also gained a reputation for its intervention and advocacy on behalf of its constituent base.
Peeples continues his dedication to the Lexington community through his active participation on numerous local and national boards. His work has also led him to numerous various awards for his dedication to his community.
Past Leadership Kentucky Flame of Excellence Recipients:
2002 – Dr. Thomas D. Clark, Kentucky Historian Emeritus
2003 – Edward T. "Ned" Breathitt, Former Governor
2004 – John R. Hall, Retired Chairman/CEO, Ashland Inc.
2005 – Martha Layne Collins, Former Governor; Chair/CEO Kentucky World Trade Center
2006 – Wendell H. Ford, U.S. Senate, Retired; Wendell H. Ford Government Education Center
2007 – Albert P. Smith, Jr., Retired Host of "Comment on Kentucky"
2008 – David A. Jones, Founder & Former Board Chairman, Humana, Inc.
2009 – Eula Hall, Founder, Mud Creek Clinic
2010 – Owsley Brown Frazier, Founder & Chairman, Frazier International History Museum
2011 – Dr. T. Pearse Lyons, Founder & CEO, Alltech
2012 – William T. Samuels, Jr., Chairman Emeritus, Maker's Mark Distillery, Inc.
2013 – Dr. Lee T. Todd, Jr., Past President, University of Kentucky
2014 – Bill Goodman, former Host, KET
2015 – John A. Williams, Sr., Computer Services, Inc.
2016 – Helen Carroll, Toyota, retired
2017 – William (Bill) Jones, U.S. Bank
2018 – David Adkisson, Kentucky Chamber of Commerce, retired
2019 – Myra Ball, Ball Homes and Donamire Farm
2020 – Alice and Wade Houston, HJI Supply Chain Solutions
Leadership Kentucky alumni, board members, and guests were invited for networking at 11:00 a.m. followed by lunch and the Flame of Excellence Award presentation. Leadership Kentucky also honored past classes of Leadership Kentucky, while extending tours of the new Central Bank Center and Rupp Arena.
###
About Leadership Kentucky:
Leadership Kentucky, created in 1984 as a non-profit educational organization, brings together a selected group of people that possess a broad variety of leadership abilities, career accomplishments, and volunteer activities to gain insight into complex issues facing the state. The Leadership Kentucky Foundation offers four unique programs: Leadership Kentucky, ELEVATE, BRIGHT, and New Executives to Kentucky.