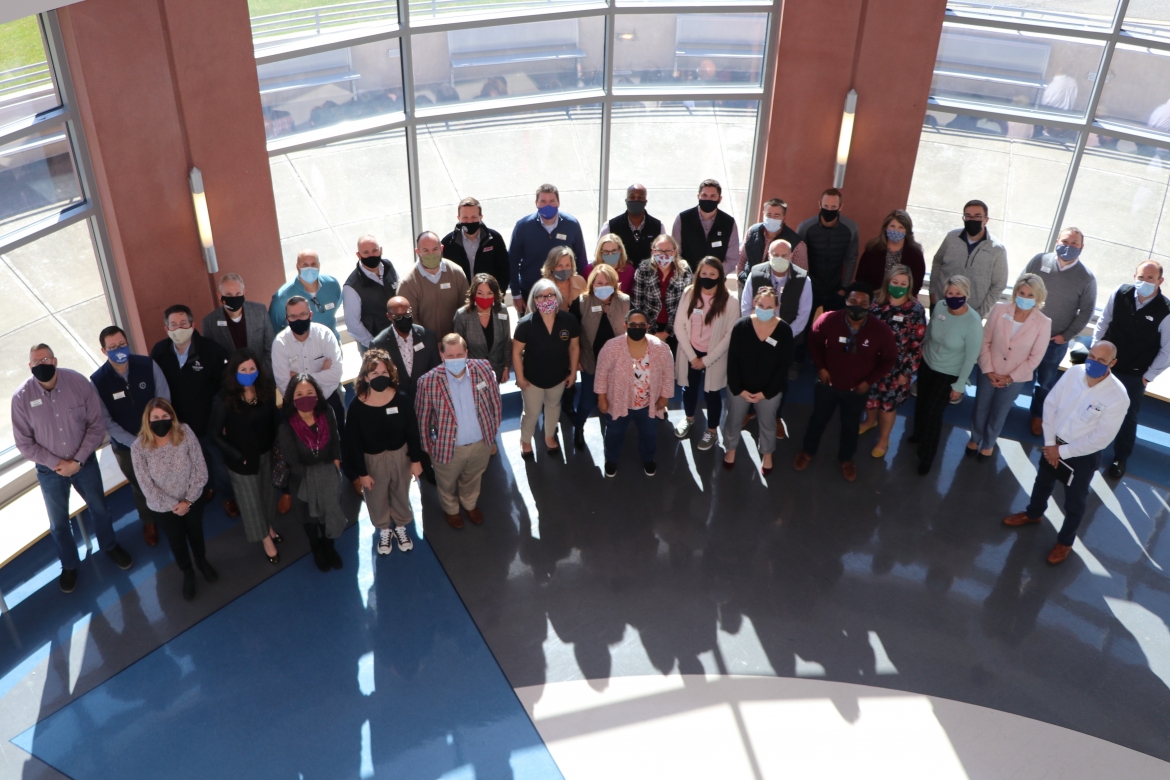 Written by: Megan Damron, Vice President, Business Banking Leader, Truist, Leadership Kentucky Class of 2021

The Leadership Kentucky Class of 2021 traveled to Ashland, KY for the November session. We kicked off the session on Wednesday with a visit to The Neighborhood and with Director, Jeremy Holbrook. The Neighborhood houses eight organizations that offer various social services and assistance programs in one central location. Some of the organizations are River Cities Harvest, Community Kitchen, Dressing Room, and Clean Start. Director, Jeremy Holbrook, asked a thought-provoking question….'What is success?' This question spurred some interesting conversations throughout the two-day session.
Our next stop was Camp Landing, a commercial development project to rehabilitate an old mall in Ashland. Currently, the development includes a remodeled cinema, and the new anchor will be Malibu Jacks, which aspires to open in mid-December. Other attractions, some of which are still conceptual, include a convention center, sports complex, farmers market, hotel, and a brewery/distillery. While at Camp Landing, several classmates participated in a panel discussion around achievements, failures, strengths, and opportunities. One common theme among the panelist was "Working with people is hard!" We were also reminded that, as leaders, we are not alone and should not be ashamed to ask for help, as well as the importance of recognizing and cultivating talent among our teams and peers.
We wrapped Day 1 with a tasty dinner and fellowship at Smokin' J's Barbeque.
Thursday was a very emotional day full of heavy discussion around very real topics such as domestic violence and addiction, which impacts not just the Appalachian Region, but from Crittenden to Bowling Green and Paducah to Pikeville. We visited Safe Harbor of Northeast Kentucky, a domestic violence shelter to help women and children rise above their circumstances through education and intervention. During breakfast, we heard an emotional testimony from a young woman whose life was changed with the help of Safe Harbor, followed by a tour of the campus.
We traveled to Louisa, KY to meet with Kayla Parsons, 2019 Graduate of Leadership Kentucky BRIGHT, who is a personal and professional advocate for Addiction Recovery Care. ARC's "Crisis to Career" model has proven successful at helping clients reach sobriety and employment. Kayla was joined by others who shared their recovery and success stories in a panel discussion.
City and county leaders shared successes and challenges that face Ashland and Boyd County. Colby Hall, Executive Director of SOAR (Shaping Our Appalachian Region) shared the initiatives of the organization.
Before joining the members of Ashland Alliance for a reception, several classmates participated in a panel discussion on leadership, discussing leadership styles, pitfalls, and leadership advice.
Thursday concluded with dinner, which featured our own, Beth Davisson from the Kentucky Chamber of Commerce, as the final speaker of the day. Beth shared her personal testimony and it is obvious why Beth is so passionate about improving the workforce in Kentucky!
For the final day, we travelled to Morehead State University for a presentation from AppHarvest, an AgTech company who has a 60-acre controlled environment agriculture facility, or greenhouse, in Morehead that grows tomatoes. As if that wasn't mind-blowing enough, we also learned about and toured the MSU Space Science Program, which was truly "out of this world"!
To conclude the session, we heard an emotional yet encouraging testimony from another classmate which made me realize the diversity of our class, not only from physical attributes, but from the varied personal experiences that we can learn and grow from. I am grateful for all classmates and for the lessons we learn from each other!