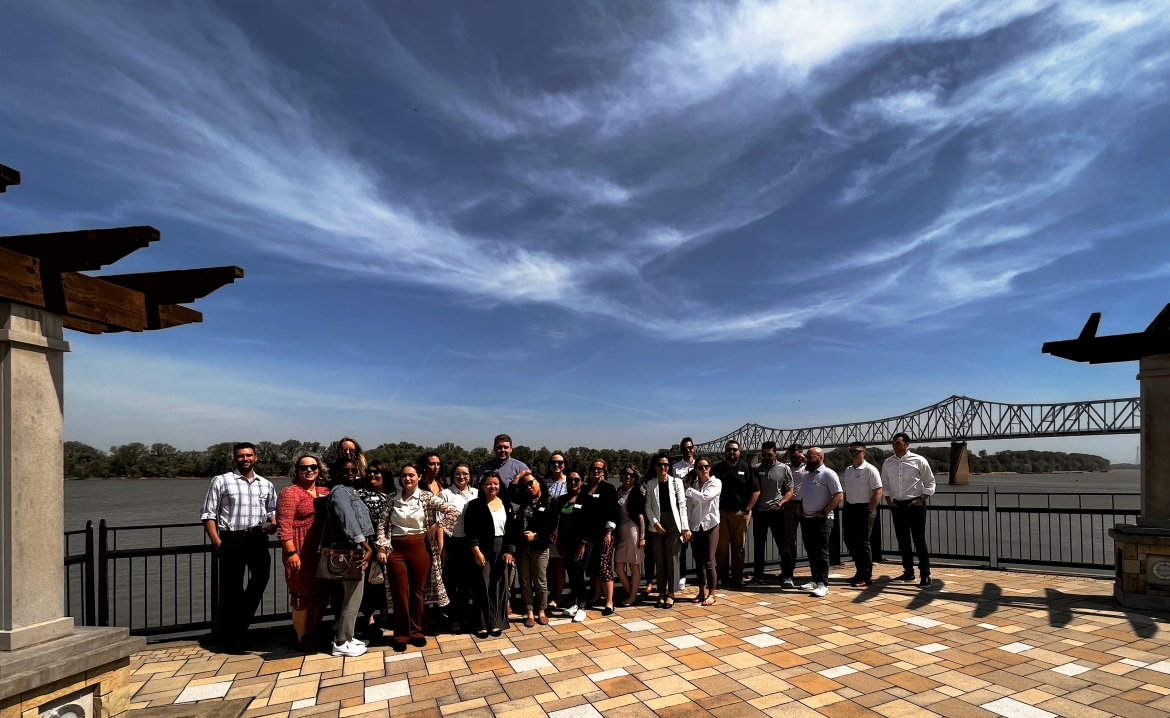 Written by: Olivia Keller, ELEVATE Class of 2023, Attorney, DBL Law, Covington, KY
The 25 members of the 2023 ELEVATE Kentucky class met in Owensboro for an opening session on April 19-21, 2023.
The program kicked off at Brescia University where Candance Brake, President of the Owensboro Chamber of Commerce, welcomed the class and briefly spoke about her work with the Chamber. The program continued with an overview of the ELEVATE program and introductions. The class also heard from Father Larry Hostetter, President of Brescia University, on moral virtues and ethics. He discussed the important role of morality and ethics, particularly in the context of leadership. Then, Dr, Nicholas Brake, Ph.D., Assistant Professor of Educational Administration Western Kentucky University, spoke to the class about their role in community leadership. Dr. Brake focused on how even small changes can create a positive impact in both large and small communities. He encouraged the class to think about areas in their communities where they could become changemakers. The class then celebrated a successful first day with dinner, drinks, and Bingo at Brew Bridge, a local brewery.
The second day kicked off with some class career panels, which allowed the class to learn more about their classmates and what they are passionate about, both professionally and personally. The busy day continued with two outside panels, one on creating a welcoming community, and one on local agriculture. The class took advantage of the beautiful weather for a History of Owensboro and a Downtown walking tour with Dave Kirk, Visit Owensboro, which provides a great example of downtown revitalization for communities across the Commonwealth. The class spent time with Leadership Kentucky and ELEVATE alumni, both at lunch enjoying Moonlite Bar-B-Q, and through programming like Jordan Baize's discussion on the importance of mentorship. They also toured the Bluegrass Music Hall of Fame & Museum and enjoyed a performance by a local bluegrass band. That evening, the class learned about community programs related to the Afghan refugee community in Owensboro and enjoyed a delicious dinner at Pamir Afghan Cuisine.
To conclude their time in Owensboro, the class spent time at Unifirst Corporation, where they toured its facility and learned about its production and distribution of customized work uniform programs, corporate attire, and other products. Afterward, the class delved into their personalized DiSC Workplace Assessments, which were completed prior to the program. Karen Butcher, ELEVATE Program Coordinator, led the class in activities and discussions related to the assessments. Doing so helped the class learn more about not only their own workplace priorities but also how to better understand and connect with colleagues whose priorities and preferences differ from theirs.
ELEVATE Kentucky 2023 class members enjoyed their time together in Owensboro, and are looking forward to their next session in Pikeville in May!