Posted on: January 6, 2016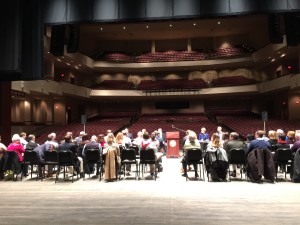 By Stacy Tapke, LKY 2015 Class Member
Ask someone outside of Kentucky what we're known for, and the response will most likely be horses. So it was only fitting that the class of 2015 gathered in the world's horse capital for its final session on Arts & Tourism.
On Monday, December 7, the class started its day in Richmond at Eastern Kentucky University. Fellow class member and EKU President Dr. Michael Benson graciously hosted us for a tour of the Arts Center, after which President Benson moderated a panel of industry experts to discuss the importance of tourism in our Commonwealth. We learned that the tourism and travel industry contributes billions (yep, that's a "b" not an "m") to the Kentucky economy each year. President Benson then led us on a tour of EKU that included a visit to the planetarium and the statute of Daniel Boone with his shiny gold toe.
In the afternoon we traveled to Berea where we had lunch at the historic Boone Tavern Hotel and Restaurant. We were then led on a tour of Berea College by a student who explained that each student at the private liberal arts college works 10-15 hours each week in addition to his/her courses. In exchange, students do not pay tuition for college and based upon the donations of generous alumni, Berea College has been able to sustain this practice. The class observed the art of furniture making, among other industries. We then toured the Kentucky Artisan Center, a place I've driven past a hundred times but never been inside. Well, if you were like me, make it your New Year's resolution to stop the next time you are nearby. It's a treasure trove of beautiful Kentucky art and gifts. Plus, you'll be contributing to the tourism and art industry for the benefit of Kentucky!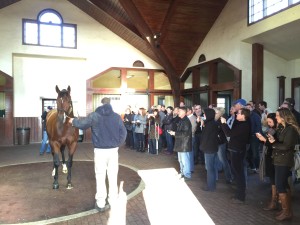 On Tuesday, the class loaded up the bus and headed to Three Chimneys Horse Farm. There we heard from Case Clay who educated us on the making of a thoroughbred race horse. In lieu of making the reader giggle like a middle-schooler, let's just say it was very informative. We then toured the stud barn where we met Fast Ana and Will Take Charge. Thanks to our very own Walt Robertson, an extremely knowledgeable and humorous equine lawyer serving as our tour guide, we learned lots of interesting facts about the horse industry. Did you know that Kentucky is home to 242,400 horses? Or that Keeneland's economic impact each year is $591 million? Well now you do!
We were then off to Ashford Stud to meet Triple Crown winner American Pharoah. Naturally we all got a "selfie" with the 2015 Sports Illustrated Sportsman of the Year nominee (American Pharoah – you were robbed)!
The afternoon brought us back to downtown Lexington where we got a "behind-the-scenes" tour of Commonwealth stadium. I wondered what a football stadium had to do with tourism, but then learned from Mary Quinn Ramer, President of Visit Lex, that while most people don't make the association (hello self!), sports are an integral part of tourism. For example, fans of other SEC teams will travel to watch their team play at UK. This translates into full hotels, busy restaurants, and happy shop owners.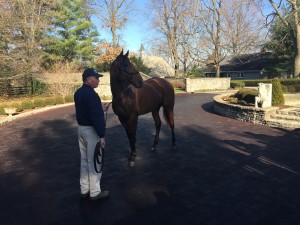 On Wednesday we gathered for what would be our final day as a class. Our graduation ceremony was officiated by LKY Board Chair Deb Moessner. Thanks to Deb and the entire LKY board for helping make the 2015 experience the best ever. Congratulations were in order for Les Fugate who will represent us on the Board of Directors, and John May who received the Lisa Murrell Award. 2015 Flame of Excellence recipient, Paducah's John A. Williams, Sr., also spoke to the group and encouraged us to be passionate and committed to making Kentucky great. Then it was hugs, a few tears, but lots of joy as we said our goodbyes and joined our fellow LKY alums at the Executive Forum and Alumni Luncheon.
Thanks to Janice, Nick, and Julie for making this an unforgettable experience. While each of us are back in that part of the Commonwealth we call home, our shared journey reminds that we are blessed to live in such an incredible place, and should endeavor to make it even better for future generations of Kentuckians.